Nancy Urline Mathewson, 1908-1998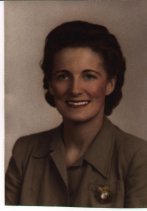 Nancy Urline Mathewson was born on October 9, 1908 in Everett, Snohomish Co., Washington, and died on February 28, 1998 in Mercer Island, King Co., Washington. She was married first on March 31, 1933, in Seattle, Washington, to Edwin Lewis Griffin (1908-1955), and was married second in December 1946 in Everett, Washington to Henry Willard "Bill" Spaeth.
From The Everett WA Herald:
NANCY SPAETH, NEE MATHEWSON
DAUGHTER OF LUMBER PIONEER DIES AT 89 March 1998
Nancy Mathewson Spaeth, 89, a daughter of a pioneering Everett lumber family, died Saturday, Feb. 28th, on Mercer Island.
She was born in Everett Oct. 9, 1908, the daughter of Elsie Headlee Mathewson and Edward Mathewson, an Everett mill owner. Edward Mathewson was the nephew of Everett founder, Henry Hewitt, Jr. Her father died when she was 3, and her mother later married Joseph Irving, her father's business partner. Her grandparents, Ephriam Headlee and Harriett Humes Headlee came to Snohomish Co. in 1889-90. They homesteaded in Granite Falls and later Snohomish.
Mrs. Spaeth attended school in Los Angeles as a teen and performed as an extra in Cecil B. DeMille's "The Ten Commandments". She returned to Seattle and graduated from the University of Washington, in political science, in 1930. The former debutante then became one of the state's first social workers, implementing President Franklin D. Roosevelt's relief act, said her daughter, Nancy Hewitt Spaeth.
She married Edwin Griffin of Tacoma in 1933. They divorced and she married H. Willard Spaeth in 1946. During World War II, she was a driver for military officers stationed at Pier 91. Later during the war, she broadcast the news from radio station KRKO in Everett and also worked as a copywriter there in the 1950's.
Marysville City Council member, Shirley Bartholomew, remembers her fondly from the radio station where they worked together. "It was a fun time in broadcasting, before the era of rock and roll. It was still in the days of network broadcasting", she said. "Nancy was a copywriter but she also did some on air work. She'd do 'women's show' kinds of things, little quarter hours aimed at the house wife, throwing in an occasional recipe."
"She was probably more sophisticated than Everett itself," Bartholomew said. "In a sense, her death marks the conclusion of the timber baron era in Everett."
Mrs. Spaeth is survived by her children, Edward I. "Ted" Griffin, James Scott Griffin, Nancy Hewitt Spaeth, Charles W. Spaeth, 12 grandchildren, 16 great-grandchildren and her sister Cornelia "Nene" Mathewson Fitch Eggers of Seattle.
A memorial gathering will be held at 7pm, Wednesday, March 3 at Epiphany Church in Seattle.
---
Nancy's father was Edward Walter "Ted" Mathewson. He was born on October 27, 1868 in Neenah, Wisconsin, the son of Edward L. Mathewson and Nancy Hewitt.
He died on July 21, 1911 in Rainier National Park, WA, killed in a touring car accident.
Nancy's mother was Elsie May Headlee, daughter of Ephriam Headlee and Harriett "Hattie" Humes, whom Ted Mathewson married on June 27, 1903 in Everett, WA. Elsie May Headlee was born on July 7, 1878 in Keokuk, Iowa. She died on August 17, 1951 in Everett, WA.
Their children were:
Edward Mathewson, born on August 27, 1905 in Everett, Washington, died on September 7, 1993 in Palm Desert, California. Edward first married Victoria "Dolly" Grandberg, and second married Pauline _____.
Mark Manson Mathewson, born on January 24, 1907 in Everett, Washington, died on December 11, 1994 in San Jose, California. Mark first married Ann Mayhew Parker on November 12, 1932 in Seattle, Washington, and second married Millicent Palmer.
Nancy Urline Mathewson (1908-1998)
Harriett Mathewson, born on July 9, 1910 in Everett, Washington, died in 1964 in Seattle, Washington. She was married to Ralph Westbrook in May 1931.
Cornelia Scott Mathewson, born on March 13, 1912 in Everett, Washington, died May 27, 1999 in Seattle, Washington. She was married first about 1933 to Hereford Fitch and second about 1994 to Harold Eggers.
Please send correspondence to Nancy Hewitt Spaeth, who is researching this Spaeth family. Return to Index Page