Menomonee Falls History
Excerpts were taken from pages of an old 1880's publication on the history of Waukesha County.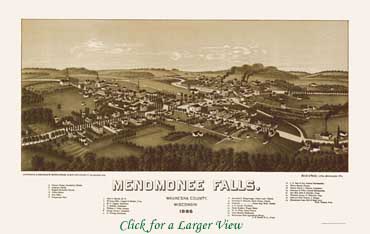 The little village of Menomonee Falls is a thriving business center, and handles a large amount of money and merchandise during the year. The historian is unable to state positively, owing to the numerous conflicting statements, but probably Hollingsworth S. Smith was the first settler in what is now Menomonee Falls, although William R. Hesk was one of the very earliest settlers in this locality.
The first postoffice was established in 1842. W. R. Hesk was the first Postmaster. J. E. Seabold is the present Postmaster, and has been in the office the last nine years.
Considerable business is done at this place, for its size and population. There are two grist-mills, the larger built about twenty-five years ago, by J. B. Nehs, and ever since run by him, with water arid steam power. Mr. Nehs was the first man in the milling business in this part of the county. The other, a steam mill, is owned and run by G. P. Kehr; a steam sawmill, owned and run by Nehs & Schlafer; one foundry and agricultural establishment, owned by I. B. Rowell & Co. This shop does an extensive business in plows and their celebrated corn cultivators. There are two general stores, one owned by J. E. Seabold & Co., and the other by Peter Keeler; three blacksmith's shops, two wagon-maker's shops, two millinery shops, two good hotels, two butchers, two undertakers and a number of smaller establishments, carrying different trades, such as shoemakers, tailors, cabinet shops, etc.
Lincoln Lodge, No. 188, A., F. k A. M., was organized under dispensation, August 31, 1871, with the following officers: M. L. Youngs, of Milwaukee, G. M.; S. S. Clark, S. W.; D. F. Bancroft, S. W.; W. T. Palmer, of Milwaukee, G. See.; J. Gray, S. D.; A, R. Ostrander, J. D.; G. W. Church, Tiler. A charter was granted July 1, 1872, and offiers were elected as follows: S. S. Clark, W. M.; Rev. A. A. Hoskin, S, W.; F. D. Bancroft, J. W.; S. K. Wambold, Treas.; J. E. Seabold, Sec.; J. Gray, S. D.; A. B. Ostrander, J. D.; C. Shuck, Tiler. Following are the charter members: F. C. Baker, G. W. Church, M. S. Griswold, Byron Gray. Thomas Haynes, S. S. Muzzy, I. B. Rowell, G. D. Rowell, J. M. Ritter, George W. Smith, J. H. Waterlin.
The officers installed January 2, 1880, are these: J. E. Lounsbury, W. M.; W. T. Camp, S. W.; I. B. Rowell, J. W.; J. E. Davis Treas.; J. B. Loomis. Sec.; A. Lillicrapp, S. D.; G. Smith, J. D.; G. W. Church, Steward; A. Ploss, Steward; G. Cook, Tiler. The lodge now numbers twenty-nine members in good standing.
The Methodist Episcopal society is very prosperous. In 1868, they built a handsome church, of the Cream City brick, at a cost of $7,500. The spire is 120 feet high, and adds much to the beauty of the church. When Dr. Reid, editor of the Northwestern Christian Advocate, conducted the dedicatory services, he pronounced it one of the finest country churches he had ever seen.
The German Methodists have a substantial and comfortable church built of stone. Both societies are reported to be in a prosperous condition.
The Methodist Episcopal Sabbath School is in a flourishing condition, containing about 150 members. Teachers, 16; Rev. A. M. Bullock, Pastor; J. E. Seabold, Superintendent; H. L. Haylett, Assistant Superintendent; George Hoyt, Secretary and Treasurer; M. Barnet, Librarian.
The first minister of the Evangelical Association, who preached in the neighborhood of Menomonee Falls, was John Lutz, in the year 1840. The Revs. Adam Stroh and Christian Lintner worked here in 1841. They were, in 1842, succeeded by the Revs. F. Wahl and G. A. Blank. Rev. M. Hauert followed them and preached here in 1848 and 1844. In 1844, Frederick Nehs and William Barns, with their families, came from the State of Pennsylvania and settled in the region of what is now called Menomonee Falls. Charles Nehs, a son of Frederich Nehs, with his family, followed the next year, 1845, from Pennsylvania. They all were members of the Evangelical Association. Rev. J. Harlacher, a veteran of the itineracy, at that time located in the adjoining town of Richfield, preached for them in private houses in Menomonee Falls. The following persons were formed by Rev. Andrew Nicolai, who succeeded Rev. M. Hauert, 1845, in the year 1846 into a class: Frederick Nehs, Rebecca Nehs, Sarah A. Nehs, Charles Nehs, Mary Ann Nehs, William Barns and Susan Barns, which number, in the following years, more or less increased. In 1859, meetings were held to consider the propriety of erecting a church. Frederick Nehs donated an acre of land for a site. On August 22, 1860, the corner-stone of an edifice was laid by Rev. J. G. Escher, which was dedicated February 24, 1861. The building is 33 1/2 x 44 1/2 feet, and valued at $5,000. The parsonage, built in 1855-56, is valued at $1,200. The present Minister is Rev. G. Fritsche. The church has a membership of 125, with the following Trustees: Isaac Leister, Edward L. Nehs and Joshua Keeler. The Sunday school numbers 161 scholars. Names of the officers are: H. Forster, President: Jacob Schleferg, Vice-President; Wesley Nehs, Secretary; W. Forster, Treasurer; John Baker and Henry Nehs, Librarians.