Loading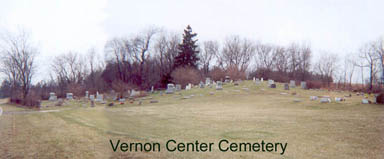 Click for larger view
Location
[ Back to top ]
History
Vernon center is an active cemetery established about 1842. It is administered by the Vernon Center Cemetery Association.
[ Back to top ]
Records
There are records available 1900-date and a chart of the cemetery. Records are available for public research by appointment only. They will answer mail requests at no charge unless excessive research is involved.
Contact: Vernon Center Cemetery Association
S76 W248 National Avenue
Mukwonago, WI 53149
[ Back to top ]
Transcriptions
The following transcriptions are copied from Tombstones 1840-1936.

For a list of Lot Owners See here

ABEL:
[12] John (lot owner)

AUSTIN:
[29] Alson/no dates
[29] Anna (Simpson)/d. Nov. 10, 1849/ 54 years 4 mo 2 da/
	wife of Alson/Daughter of Revolutionary Soldier
[29] Al Anson/Son of Hiram/no dates
[29] Anna E./Child of Herman/d. Nov. 16, 1856
[29] Birdie A./Child of Hiram/d. Jan. 3, 1858, age 8 mo. 27 days
[29] Hattie G./Child of Hiram/d. Aug. 12, 1860/age 8 mo 23 days
[27] Hiram/b. July 2, 1827/d. Dec. 19, 1883/27 Co. D. 3rd Wis. Cavalry/
	(handwritten along side...? of Alson & Anna Son of Hiram Austin
[27] Maria/b. Aug. 11, 1830/d. Nov. 27, 1909/wife of Hiram
[27] Grandpa/no name/b. Feb. 22, 1798/d. Sept 8, 1876
[11] John/1834-1879/ (handwritten ?? Hiram)
[11] Hulda (Yahrmark)/d. Aug. 29, 1893/age 32 years, 11 mo/wife of John Austin
[11] Johanna/1836-1916
[11] Paul/b. Dec. 22, 1890/d. June 14, 1936/son of John & Huldah Austin
[11] Infant/b. Jan. 25, 1881/d. July 3, 1881/son of John & Huldah Austin
[9]  Lewis (owner)/son of Hiram/no dates
[9]  Mardel/b. Mar. 21, 1896/d. Sept. 11, 1896/daughter of Lewis
[62] William/owner/son of Hiram/no dates
[62] Minnie (Menick)/b. Oct. 18, 1867/d. Feb. 11, 1925/wife of
	William Austin
[62] Maria M./b. June 29, 1901/d. July 1, 1901/daughter of William
[62] Roy/b. Sept. 7, 1889/d. Sept. 19, 1911/son of William
[62] Aaron/son of William/no dates

AUSTIN:
See HILL

AVERY:
See DANIELS
See KELLS

BESTEL:
[70] Theo/owner/no markers or dates

BOETTCHER:
See MEYER

BRACH:
[56] Maria/b. April 27, 1876/d. Dec. 20, 1886

BUELO:
[83] August/1852-1928
[83] Fredericka/1851-1914/wife of August
[83] Carl F./1876-1884/son of August & Fredericka
[83] Emil/b. Sept. 5, 1883/d. Jan. 28, 1934

CAMERON:
[57 & 59] Duncan/d. Oct. 11, 1896/age 79 yr 6 mo 15 days
[57 & 59] Mary M./b. Oct. 2, 1826/d. Aug. 4, 1879/wife of Duncan Cameron
[57 & 59] A.T.F./d. Mar. 14, 1848/son of Duncan & Mary M. Cameron
[57 & 59] George W./d. Dec. 31, 1900/age 47 years
[57 & 59] Charles H./b. in Vernon, June 11, 1848/d. Sept. 28, 1919
[57 & 59] Sarah A./b. in Oconomowoc June 19, 1858/as of transcription 
	in the 1930s not dead yet

CARMICHAEL:
[2 & 87] Brice/1819/d. Nov. 27, 1897
[2 & 87] Esther/b. Feb. 22, 1821/d. Mar. 2, 1901/wife of Brice
[2 & 87] Celia/1881-1889/daughter of Wm. Carmichael
[2 & 87] Elizabeth (Carmichael) Colley/b. Jan. 3, 1853/d. Mar. 22, 1885/daughter of
	Brice & Esther Carmichael
[2 & 87] Edward/Mar. 17, 1869/age 8 yr 2 mo 14 da/son of Elizabeth Colley
[2 & 87] William, Sr./1852-Feb. 2, 1934/son of Brice & Esther

CARMICHAEL: 
See VAN BUREN

CARPENTER:
[38 & 40] J. (Owner)/no markers

CARPENTER:
See STILLWELL

CARROLL:
[ 53 ] Thomas/b. Feb. 15, 1860/d. Jan 25, 1930
[ 53 ] Harvey A./b. May 21, 1893/d. July 29, 1905/son of
	Thomas & Minnie Carroll
[ 53 ] Infant Son of H. Carroll/d. Jan 29, 1888

CLIFTON:
[30 & 32] Aaron/d. Mar. 30, 1874/age 83 yrs 5 mo 10 days/
	father of Joseph Clifton of Mukwonago who d. in 1873
	and A. Clifton of Vernon
[30 & 32] Mary B./d. Sep. 24, 1866/wife of Aaron
[30 & 32] A.B./no marker
[30 & 32] Mary J./d. Oct. 12, 1852/age 7 mo/daughter of 
	J. & A.J. Clifton
[30 & 32] Robert R./d. Oct. 11, 1853/son of J. & A.J. Clifton
[30 & 32] Eldridge/d. June 21, 1870/age 6 mo/son of A.B. & B.W.
	Clifton

COLLEY:
See CARMICHAEL

DABEL:
[107] Louis/1845-1911
[107] Minnie/1847-no date
[140] R. Infant/no date

DAMON:
[46] Lucy/d. Oct. 14, 1851/age 77 yr
[46] Riley/d. Nov. 28, 1859/age 42 yr 6 mo 11 da

DANIELS:
[48] Henry/Nov. 29, 1835/Jan. 15, 1905
[48] Amandam/Mar. 1, 1840/Aug. 10, 1910/wife of Henry/daughter
	of Henry & Caroline (Avery) Kells
[13] Leonard/Apr. 21, 1840/Mar 4, 1901/son of Porter Daniels
[13] Caroline/Apr. 6, 1878 (?)/June 13, 1914/wife of Leonard
	Daniels
[13] Robert/1904-1905/son of Harry & Margaret Daniels
[77] Margaret (Sheldon)/d. Jan 5, 1867/age 39 yr 2 mo 20 days/
	wife of Edwin H. Daniels
[77] No Name/Feb. 28, 1861/age 2 yr 10 mo 7 da/daughter of 
	Edwin & Margaret Daniels
[16] Porter/1901/May 5, 1888/age 87 yr 1 mo 
	(written above entry 3/17/1803-4/12/1890)
[16] Cleantha/1805/Nov. 2, 1879/age 74 yr 5 mo 6 da/
	wife of Porter

DAVID:
[26] H.R./no dates
[26] Eliza (Hall)/d. Jan. 28, 1864/age 52 yr/wife of H.R. David

DAVIS:
[112] Walter (owner) no dates
[112] Matilda/July 28, 1867/Oct. 20, 1905/wife of Walter

DEDERICK:
[no plot # given] Myron/d. Sep. 20, 1901/age 67 yr 2 mo
[no plot # given] Pamela/d. Mar. 22, 189/age 55 yr 8 mo/
			wife of Myron Dederick

DEWEY:
[37] Herman/July 28, 1844/Nov. 26, 1913
[37] Minnie/Sep 6, 1848/Jan 29, 1897/wife of Herman

DRAPER:
[no plot # given] Elizabeth/d. Mar. 15, 1881/age 43 yr 9 mo 8 da

DURFREY:
[no plot # given] Eva C./d. June 28, 1863/age 5 yr 3 mo 16 days/
			daughter of E.L. & E. Durfrey

DUVAL;
[33] Infant Daughter of H.H. Duval/d. Aug. 2, 1882

FOX:
See STILLWELL

FRAYER:
[64] Peter (owner)/no marker
[64] Adeline/d. Aug. 20, 1849/age 4 yr 3 mo 18 da/
	daughter of P. & B. Frayer
[64] Mary/d. Mar. 31, 1852/age 2 yr 6 mo/daughter of
	P. & B. Frayer

FREEMAN:
[136] Peter/no marker
[136] Mrs. Peter Freeman/1843-May 18, 1915
[136] George/no dates/brother of Peter

GIBBS:
[unreadable] Lucy/d. Aug. 22, 1882/age 76 yr.

GRIMM:
[1] Bridget L./d. Oct. 20, 1859/age 2 weeks 4 days/
	daughter of P. & C.D. Grimm

GRUTZMACHER:
[1] Herman/Father/Aug 9, 1838/July 29, 1824/Civil War Marker
[1] Carl F./Father/1802-1861
[1] Augusta/Mother/Mar. 9, 1851/Dec. 1, 1925/wife of Herman
[1] John/1836-1859/son of Carl F.
[1] Dorothy/Mother/1809-1870/wife of Carl F.

HAESE:
[3] Johan/Nov. 21, 1971/Mar 18, 1880
[3] Ludwig/Nov. 7, 1820/Jan. 17, 1900
[3] Caroline/June 20, 1815/Jan. 21, 1902/wife of Ludwig

HALL:
See DAVID

HAM:
[unreadable] Daniel C./d. Mar. 4, 1871/age 72 yr 1 mo 20 days

HAMMON:
[20] Charles/Grandpa/d. Feb. 9, 1880/age 80 yrs
[20] Anna/Grandma/d. Oct. 19, 1879/age 83 yr/wife of Charles

HAMMOND:
[86] Christian H./Oct. 16, 1822/Mar. 5, 1903
[86] Fredericka S./Nov. 22, 1830/Sept. 26, 1921

HARETH:
[143] George/1855-1909
[143] Barbara/1868-1912

HART:
[22 & 88] Frank/July 9, 1848/Jan. 10, 1915
[22 & 88] Eliza/1848/Jan. 28, 1906
[22 & 88] Eliza M./d. Aug. 28, 1872/age 18 mo

HIGLEY:
[15] H./no marker
[15] Josephine/d. Aug. 12, 18--, age 6 yr 22 da/daughter of H. & C.M.
	Higley
[15] 1 grave/G.A.R. Marker -1931
H.A. Edwin handwritten below the above entry

HILL:
[29] Sarah (Austin)/d. May 21, 1918(?)/age 25 yr 3 mo 10 days
	wife of Gardner Hill

HOLLENBECK:
[8] Mary E./d. July 9, 1860/age 80 yr/wife of N.H.

HOWIE:
[35] Dewitt C./Sept. 27, 1858/July 26, 1909
[35] Esther/Sept. 28, 1857/May 14, 1932
[35] John H./Jan. 2, 1885/Dec. 2, 1892

HOWIE:
See OLESON
See VICK

KAVEL:
[31] Theodore (owner) no markers

KELLER:
Carl/Nov. 22, 1822/Jan 15/16, 1903

KELLOGG:
[92] Celia M./Mother/1837-1924/wife of Harvey Kellogg

KELLS:
[19] Henry/Mar. 18, 1811/Nov. 25, 1892
[19] Caroline (Avery)/Oct. 16, 1814/Sept 28, 1896/
	wife of Henry

KELLS:
See DANIELS

KEPPEN or KAEPPEN:
[58 & 49] Adolph/Father/1852/July 1, 1901
[58 & 49] Minnie/Mother/Sept. 19, 1852/Jan 13, 1913/wife of Adolph
[58 & 49] Augusta/May 28, 1880/June 29, 1880/daughter of Adolph & Minnie
[58 & 49] Charlie/June 28, 1878/May 28, 1885/son of Adolph & Minnie

KNUTH:
[114] William (owner) no markers
[114] Harry/1908-1922/son of W & I Knuth

KUEHL:
[117] August/1858-1933
[117] Amelia/1862-no date
[117] Amel/Dec. 9, 1885/Oct. 30, 1905/son
[41]  Edward/Oct. 3, 1826/May 31, 1901
[41]  Wilhelmina/Aug. 13, 1833/Aug. 23, 1912/wife of Edward

LARSON:
[39] William (owner) no marker

LARTZ:
[91] Christian/Feb. 20, 1815/Dec. 27, 1891
[91] Sophia/Jan. 27, 1822/June 14, 1898

LOMIS:
[84] N./no markers

LONGLEY:
[39] Frances/no marker/no dates

LUEDTKE:
[60] August/May 6, 1831/May 7, 1905
[60] Fredericka/July 29, 1828/Apr. 27, 1909/wife
[102] Charles J./July 17, 1855/Sep 9, 1917

MAIR:
[45] Alexander/Father/1874-1925

McALENY
[113] James/1871/Oct. 14, 1935

MENICK:
[67] Henry/1820/Jan. 24, 1903
[67] Margaret/1825/June 14, 1885/wife of Henry
[67] Henry/1862/1926
[104] Sebastian/Oct. 25, 1863/Sept. 9, 1917
[104] Jessie (Sage)/wife of Sebastian (owner)/no dates
	(Jessie Menick Werts  1877-1962) (submitted by researcher/
	see contributors page)

MENICK:
See AUSTIN

MEYER:
[33] Amelia G. (BOETTCHER)/Feb. 9, 1856/Nov. 15, 1887/wife of
	Chas. Meyer

MUNSON:
[113] Edwin H./b. Aug. 27, 1804/d. in Minneapolis Apr. 12, 1896
[113] May B./b. June 10, 1807/d. in Milwaukee/Nov. 20, 1881

OLESON:
[82] A.H. (owner) no dates
[82] Hilda/daughter of N. & E./no dates
[82] Matilda/daughter of N. & E./no dates
[122] Catherine (HOWIE)/Apr. 28, 1838/Sept. 14, 1916

PAUL:
[137] Gustaf/1868-1928
[137] Anna L. (Platz)/1877-1909/wife of Gustaf Paul
[137] Lester/1906-1928/son

PILHOFER:
[139] Conrad/no marker
[139] Irene/Jan. 14, 1894/June 13, 1908

PLATT:
[90] L. (owner)/no markers

PLATZ:
[7] Charles/Oct. 3, 1829/Jan 7, 1898
[7] Wilhelmina/Nov. 26, 1828/Jan 20, 1911/wife
[128] Charles/1860-1928
[128] Lillie/1861-1914
[133] Ludwig/1845-1912
[133] Fredericka/1845-1929
[138] William/no dates
[138] William Jr./born and died Feb. 27, 1911

PLUCKHAHN:
[91] George/1848/June 22, 1889/son of John and Mary Pluckhahn
[91] Mother/no name/1849-1935
[85] John Henry/1870-1886

QUACKENBUSH:
[24] F.I./d. Apr. 16, 1858/age 51 yrs 3 mo 16 days

ROBERTSON:
Lucy Ann (Iam)/d. May 7, 1870/age 23 yrs 11 mo/daughter of R.C.
	and E.P. Robertson
Robert J./d. Apr. 3, 1858/age 4 yr 2 mo 28 days/son of R.C. and
	E.P. Robertson

ROBINSON:
[14] Robert/no markers
[13] Mrs. Bessie/d. June 1, 1834/age 51 yr/mother of Mrs. Walter Thiessenhusen

RODGERS:
[99] Henry/d. June 17, 1933/age 72 yr
[99] Helen/d. Apr. 10, 1922/age 65 yr

RUST:
[17] August/1816-1862/father of August, William, and Charles Rust

SAGE:
See MENICK

SCHLUETER:
[141] Infant/no name on record

SCHMIDT:
[140] H. (owner)
[140] infant/no marker

SCHUBEL:
[119] August/July 8, 1884(1834?written above)/Aug. 18, 1920
[119] Charlotte/Mar. 28, 1847/Feb. 24, 1918
[127] A.W. (owner)
[127] Irvin/Sept. 2, 1902/Jan 31, 1937

SCHUBEL or SHUBEL:
[68] August (owner)
[68] Frank/Nov. 11, 1879/mar 18, 1885
[68] Gusta/June 11, 1871/March 31, 1891
[68] Michael/Jan 9,m 1802/April 7, 1885
[68] Minnie B./May 22, 1881/Mar. 6, 1886 (or 5)
[85] Minnie B./Nov. 25, 1799/July 7, 1879

SCHURK:
[50] William/Apr. 9, 1827/Dec. 1, 1885
[50] Minie/Apr. 30, 1832/June 27, 1911/wife of Wm.

SCHURK:
See WOLLENZIEN

SHARP:
G.W./d. Aug. 10, 1860 age 36 yrs

SHARPE:
[55] Mrs. Frank/no markers

SHELDON:
See DANIELS

SHEPARD:
[71 & 72] Sidney F./d. Nov. 16, 1894 age 73 yr
[71 & 72] Hannah/d. Dec. 15, 1865/age 38 yr/wife of Sidney
[71 & 72] Elliot Wayne/d. Apr. 10, 1861/age 10 yr 6 mo 16 da
	son of Sidney F. and Hannah
[71 & 72] Herod C./d. Oct. 5, 1884
[71 & 72] Orville/d. Sept. 18, 1863 age 8 mo 11 days

SIMPSON:
See AUSTIN

SINGSHEIM or ZINGSHEIM:
[34] Gabriel/1837-1920
[34] Mary/1847-1897/wife of Gabriel

SPEAKER:
[8] George (owner)
[8] Edgar M./d. Sep. 2, 1863 age 6 mo 12 days
[8] Granger C./d. Feb. 1, 1858/age 1 yr 3 mo 9 days
[10] W.M. & M. J./no names or dates
[10] Lemuel F./d. Dec. 18, 1876/age 8 yrs 3 mo 14 days
[10] Wion L./d. Mar. 12, 1865/age 4 yr 4 mo 13 days

SPRAGUE:
[28] Eugene D./Sept. 28, 1857/Sept. 15, 1905
[28] Elizabeth/d. Sept. 2, 1892

SPRAGUE:
See WARFIELD

STANTZ:
[100] Maria/1851-1930

STARK:
[109] August F./Jan. 28, 1839/Apr. 27, 1924/G.A.R. Marker on grave
[109] Helen M./Jan. 5, 1852/Jan. 28, 1834/Mother/wife of August F. Stark
[109] Hester/Feb. 7, 1870/May 31, 1916/daughter

STILLWELL:
[65] Asher/1783/Jan. 8, 1880/age 96 yr 11 months
[65] Asher/d. Aug. 29, 1852/age 55 yr 4 mo
[47] Obadiah/1796/June 15, 1863/age 66 yr 7 mo
[47] Mary/1807/Aug. 19, 1853/age 46 yr 1 mo/wife of Obadiah
[66] William T./1824/Jan. 16, 1904/son of Asher
[66] Mary A. (Fox)/d. July 5, 1868/age 30 yrs 6 mo/daughter of Samuel
	& Jane (Carpenter) Fox

SWARTZ:
[93] Henry/Dec. 19, 1920/FEb. 9, 1903
[93] Katherine/Feb. 8, 1927/Aug. 12, 1891
[93] Adam/Feb. 27, 1860/May 31, 1915
[94] John (owner)

THIESSENHUSEN:
[110] Henry (owner)
[110] Hubbard/July 9, 1893/Nov. 3, 1920
[13] Walter (owner)

THIESSENHUSEN:
See ROBINSON

TUBBS:
Merritt S./Father/1822-1891
Sarah E./Mother/1831-1907

VAN AERNAM:
[7] Francis E./Sept. 15, 1847/Oct. 9, 1848/son of Evert H. and Minna H.
[5] John V./d. Oct. 21, 1849/age 62 yr 7 mo 4 day

VAN BUREN:
[21] John/Jan 14, 1836/Mar. 15, 1924
[21] Sarah A. (Carmichael)/1849-July 23, 1873/age 24 years/wife of John 
	Van Buren/daughter of Brice & E. Carmichael
[21] Daniel H./1804/Feb. 1, 1867/age 63 years
[21] Johanna/Dec. 28, 1858/Feb. 19, 1930
[25] Henry/July 5, 1845/Jan. 8, 1817
[25] Isabella/Aug. 19, 1846/Feb. 2, 1927/wife
[25] Duane/d. Mar. 16, 1869/age 1 yr 1 mo 14 days/son of Henry & Isabella
[23] Peter/Oct. 29, 1808/Sept. 21, 1893
[23] Isabella/Mar. 26, 1810/Feb. 25, 1886/wife of Peter

VANDERPOOL:
[43 & 61 & 63] William/1796/Feb. 29, 1868/age 72 years
[43 & 61 & 63] Lovina/d. Jan. 7, 1871/age 64 yr 10 mo 20 da/
	wife of William
[43 & 61 & 63] Abner/d. Oct. 12, 1850/age 6 hr 4 mo 12 days/
	son of William & Lovina
[43 & 61 & 63] Catherin/d. Nov. 20, 1850/age 2 mo 2 days/
	daughter of William & Lovina
[43 & 61 & 63] Charles/d. Mar. 18, 1850/age 2 yr 7 mo 20 days
	son of William & Lovina
[43 & 61 & 63] William/d. Dec. 21, 1847/age 8 yr 5 mo 20 days/
	son of William & Lovina
[43 & 61 & 63] William A./d. April 2, 1877
[43 & 61 & 63] Ann/wife of William A./no dates
[43 & 61 & 63] Catherine/d. Nov. 1873 age 8 months/daughter of William A.
	& Ann
[43 & 61 & 63] Margaret/d. Oct. 1842/age 1 yr 6 mo
[43 & 61 & 63] Angelica/d. Mar. 31, 1859/age 19 yr
	5 mo 21 days/wife of A.C. Vanderpool

VICK:
[105] Henry/Oct. 10, 1849/Nov. 7, 1921
[105] Mary M. (Howie)/Apr. 10, 1860/Mar. 25, 1917/wife of Henry Vick/
	daughter of John and Catherine Howie

WARFIELD:
[42 & 44] Nathan/Aug. 23, 1818/May 11, 1872/came to Vernon in July 1843
[42 & 44] Lucy (Young)/1820-1915
[42 & 44] Harmon M./Oct. 3, 1846/Sept. 15, 1920
[42 & 44] Mary (Sprague)/1848-1901/wife of Harmon M.
[42 & 44] Little Warner/infant sone of C. & E. Warfield/d. Apr. 17, 1877

WASCHOW:
[131] John W./June 19, 1872/Aug. 4, 1934
[131] Emma F. (owner)/b. 1861

WEBER:
[139] John/no markers
[54] John C./1827/d. Apr. 27, 1887 age 60 yrs 11 mo 27 days/
	Civil War Marker
[52] J.S. (owner) No markers

WEIR:
[129] Robert/d. 1865
9none listed) Elsie A./Mother/May 26, 1883/Oct. 12, 1935

WHITE:
[15] Calista/d. Aug. 10, 1858/age 36 yr 6 mo/wife of A. White
[15] Almon T./d. June 7, 1859/age 4 yr 6 mo/son of A.H. & M. J. White
[15] Edwin/d. Aug. 3, 1859/age 11 mon/son of A.H. & M. J. White

WILKIN:
Joachim/1806-1885

WOLFE:
[124] Arthur (owner)
[124] Dale A./Nov. 20, 1928/Mar. 28, 1930/son of Arthur Wolfe
[124] Henry/d. Aug. 9, 1936

WOLLENZIEN:
[51] August (owner)
[51] Bertha (SCHURK)/Dec. 19, 1866/ Jan. 26, 1925/wife of
	August Wollenzien
[51] Eva/May 5, 1890/Nov. 20, 1900/ daughter
[41 & 20] Charles D./Apr. 20, 1832/May 23, 1901/GAR Marker on Grave
[41 & 20] Augusta/Mother/Nov. 11, 1832/oc. 11, 1886
[41 & 20] Annie/1879/July 16, 1887/age 8 years 4 mo 24 days
[132] George (owner)
[132] Mille (Kroning) wife of George
[132] Grace/Jan. 4, 1902/Jan. 10, 1902/daughter of George and Mille
[107] Mrs. Harley/no dates
[141] William (owner) Civil War 3rd Wisc. Inf. Co. F.
[141] 1 infant/no dates

WOLFE:
[36] David/no dates
[36] Margaret/Dec. 28, 1916/Dec. 30, 1916
Arthur Charles/b. Oct. 25, 1883/d. August 7, 1959/bur: August 11, 1959/
	Mourners: sons Russell & Merial (Wauk) & Eugene (Wales)/
	Burial at Vernon Cemetery/from Vernon Evan. Lutheran Church
	Records.

YAHRMARK:
[18] Fred. D./Jan. 29, 1824/Oct. 1, 1900/Civil War Marker
[18] Marie H./Dec. 7, 1827/FEb. 21, 1911
[18] Anna/no record
[18] Baby/ no record

YAHRMARK:
See AUSTIN

YOUNG: 
See WARFIELD



[ Back to top ]