Deaths, Burials, Funerals and Cemetery Records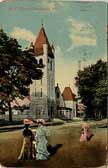 Prior to 1872 the official recording of death information in Waukesha County was very sporatic. After 1872 records are better but still incomplete. September 30, 1907 state law mandated that all deaths in the state of Wisconsin be recorded. In searching the earlier records you may have to rely on church and cemetery records and land records (sometimes there was a transfer of property at someone's death).
See Also:
Military Section for war casualty lists
Probate Notices
Cemeteries
Most of the death information I have on this site is found in the cemetery section. Not all burials are shown. The page includes only those available at the time the page was created.
Some of the cemeteries include transcriptions of tombstones, photos of headstones, and links to obituaries.
Transcribed Obituaries
Waukesha County Obituaries and Death Notices - Please click on the letter of your surname.
[ A ] [ B ] [ C ] [ D ] [ E ] [ F ] [ G ] [ H ] [ I ] [ J ] [ K ] [ L ] [ M ] [ N ] [ O ] [ P ] [ Q ] [ R ] [ S ] [ T ] [ U ] [ W ] [ Y ] [ Z ]
Mortality Schedules
In the years 1850, 1860, 1870, 1880, 1885, 1890 and 1900 a Mortality schedule was recorded at the time of the Federal Census was taken. The mortality schedule contained a list of deceased persons during the prior 12 month period. The 1890 and 1900 mortality schedules have been destroyed and are no longer available.
1850 Mortality Schedule -Mukwonago, Vernon, Muskego Twns.
1860 Mortality Schedule
1870 Mortality Schedule
1880 (not yet transcribed)
1890 and 1900 destroyed (no longer available)
Online Death Indexes and Resources (FREE)
Waukesha County Death Index 1820-1907
Click on the letter of your surname:

Waukesha County Obituaries and Death Notices
Waukesha Necrology Index
Waukesha County Police Officers Killed While Serving
Online Wisconsin Death Records and Indexes (offsite link>
Pre-1907 Vital Records (Wisconsin Historical Society website link)
Wisconsin Deaths 1959-1979 (offsite link)
Find a Grave - (offsite link)
WIGenWeb Tombstone Project
Milwaukee Deaths-Many Waukesha families had Roots in Milwaukee County.
Wisconsin Circuit Court Access-This contains more recent probate information.