Vernon Center
Vernon Township
Waukesha County Wisconsin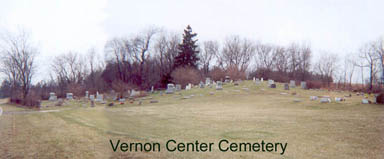 Click for larger view
Location
History
Vernon center is an active cemetery established about 1842. It is administered by the Vernon Center Cemetery Association.
Records
There are records available 1900-date and a chart of the cemetery. Records are available for public research by appointment only. They will answer mail requests at no charge unless excessive research is involved.
Contact: Vernon Center Cemetery Association
S76 W248 National Avenue
Mukwonago, WI 53149
Transcriptions
For a list of transcriptions, click here.



Lot Owners

1	Herman Grutzmacher
2	Brice Carmichael
3	John Haese
4	Charles Wollenzien
5	John Van Aernam
6	None listed
7	C. Platz & E. Van Aernam
8	George Speaker
9	Lewis Austin
10	M. Speaker
11	John Austin
12	John Abel
13	Leonard Daniels
14	Robert Robertson
15	H. Higley
16	Porter Daniels
17	August Rust
18	Fred Yahrmark
19	Henry Kells
20	C. Wollenzien
21	John Van Buren
22	Frank Hart
23	Peter Van Buren
24	F.I. Quackenbush
25	Henry Van Buren
26	H.R. David
27	Hiram Austin
28	E.D. Sprague
29	Alson Austin
30	Aaron Clifton
31	Theo. Kavel
32	A.B. Clifton
33	Amelia Meyer
	H.& ? Duval
34	Gabriel Zingsheim (Singsime)
35	De Witt Howie
36	David Wolve
37	H. Dewey
38	J. Carpenter
39	William Larson
	Frances Longley
40	J. Carpenter
41	E. Kuehl
42	O. Warfield
43	William Vanderpool
44	N. Warfield
45	Alex Mair
46	R. Damon
47	Obadiah Stillwell
48	Henry Daniels
49	A. & M. Keppen
	-------- White
50	None listed
51	August Wollenzien
52	J. S. Weber
53	Thomas Carroll
54	J. Weber
55	Mrs. Frank Sharpe
56	Maria Brach
57	Duncan Cameron
58	A. Keppen
59	Duncan Cameron
60	John Haese
	Aug. Luedtke
61	Wm. A. Vanderpool
62	William Austin
63	Wm. A. Vanderpool
64	Peter Frayer
65	Asher Stillwell
66	William Stillwell
67	Henry Menick
68	August Schubel (or Shubel)
69	None Listed
70	Theo. Bestell
71	S. Shepard
72	S. Shepard
73	None Listed
74	None Listed
75	None Listed
76	None Listed
77	W. Daniels
78	None Listed
79	None Listed
80	None Listed
81	None LIsted
82	A.H. Olson
83	A. Buelo
84	N. Lomis
85	John Bluckhahn
	Minnie Schubel
86	C. Hammond
87	Wm. Carmichael
88	Frank Hart
89	None Listed
90	L. Platt
91	-----Pluckhahn
	Christian Lartz
92	Celia Kellogg
93	Henry Swartz
94	John Swartz
95	None Listed
96	None Listed
97	None Listed
98	None Listed
99	Henry Rodgers
100	Henry Stantz
101	None Listed
102	Charles Luedtke
103	None Listed
104	Jessie Menick
105	Henry Vick
106	None Listed
107	Louis Dabel
	Mrs. Harley Wollenzien
108	None Listed
109	August Stark
110	Henry Thiessenhusen
111	None Listed
112	Walter Davis
113	James McAleny (one half)
114	William Knuth
115	None Listed
116	None Listed
117	A. Kuehl
118	None Listed
119	Aug. Schubel
120	None Listed
121	None Listed
122	Catherine Howie Oleson
123	Frederick Otto
124	Arthur Wolfe
125	None Listed
126	None Listed
127	A.W. Schubel
128	Charles Platz
129	Robert Weir
130	None Listed
131	John Waschow
132	George Wollenzien
133	Ludwig Platz
134	Amel Buelo
135	Walter Thiessenhusen
136	Peter Freeman
137	Gustaf Paul
138	William Platz
139	Conrad Pilhofer
	John Weber
140	H. Schmidt
	R. Dabel
141	William Wollenzien
	----- Schlueter
142	None Listed
143	George Hareth

Back to Cemetery Transcriptions