Marriages, Births, Baptisms, Confirmations, Biographies and Immigration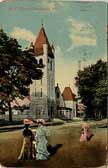 This is the Waukesha County Family Section. Within this section you will find birth and marriage information, such as parents names, location of birth, children's names, and occupations.
Not all information about all ancestors that settled in Waukesha County are listed in these pages. I only listed information I had at the time I compiled the page.
Family Pages
The names are listed alphabetical by groom surname unless the groom was not know, then the woman was listed by husband's surname or maiden name. If there is a link on the name it means there is a biography, photo or other additional information about that person on another page. Sometimes the name is linked to family group sheets or history that someone has sent in to me. I tried to cross reference the maiden names as best I could. If you can't find the spelling of the name, be sure to try similar alternate spellings.

Surnames Starting with:
Centenarians - People of Waukesha County who lived to be 100 years old (or so).
Biographies, Biosketches, Memoirs
Free Online Birth, Marriage and Divorce Indexes
Pre-1907 Birth Index
Delayed Births Births prior to Oct. 1907 filed 365 days or more after the birth
Pre-1907 Vital Records (offsite link contains marriages and births)
Wisconsin Circuit Court Access-This contains more recent divorce information.
Waukesha Necrology Index
Immigration and Settlers to Waukesha County
Some immigration information is also available through the family pages above
Old Settlers' Clubs of Waukesha County
First Settlers to Pine Lake
Pioneers of Waukesha
Family Histories
Personal websites and pages with Waukesha County connections
Estberg Family - Wisconsin Pioneers
NewFoundland To Wisconsin
Family Bible - Jones
Family Bible - Clist
Guderjahn Family Naturalization Papers
Anna Strieter Weir's family history
Waukesha County "Roots" Personal Web Sites

Miscellaneous Birth and Marriage Resources
Welsh Pioneers of Waukesha County data submitted by David E. Jones
Unclaimed Letters Milwaukee Post Office 1836 1836 Waukesha was still part of Milwaukee County
News and Notes from Newspapers
News and Notes Index
1883 1887 1890 1891 1892 1893 1894 1895 1896 1897 1898 1899 1906

Old Letters
Mary Todd Lincoln visits Waukesha County