Waukesha County Biographies
Click to get back to the main page:
Surnames Starting with:
WILLIAM HENRY BABCOCK
Source:1907 Volume of Haight's Waukesha County Memoirs pg. 351
William Henry Babcock, was born Dec. 23, 1862, in the town of Mifflin, Dane county, Wis., and is the son of James C. and Mary Jane (Grant) Babcock. The former, a native of Kentucky, was born on Jan. 11, 1815, and is still living, his present home being in Reedsburg, Sauk county, Wis. He was a sailor for five years, going out from New York harbor and later coming west to Dane county, Wis., where he worked on a farm for thirteen years. The next thirteen years were spent in Juneau county, Wis., where he bought a farm, and continued in the work of agriculture. From that point he went to Marshfield, Wis., and in 1906 to Sauk county, his present residence. Mrs. Babcock was born in New York state, June 13, 1828 and died in Juneau county Nov. 14, 1891. There were thirteen children in the family, of whom ten are living. William H. spent his early years in Juneau county and there attended the public school. After coming to years of manhood, he went to work for the Chicago, Milwaukee & St. Paul railroad, being section boss for eighteen years, fourteen of which he worked without losing a day. In 1906 he came to the town of Waukesha and in April, 1907, to the town of Muskego. In the former town he holds the position of constable, his political affiliations being with the Republican party. In 1882, Mr. Babcock married Miss Alice E. McCarty and of the nine children born to them none are living. A second marriage was contracted on April 7, 1895, with Mary E. Wilson, a native of South Dakota, to which a daughter was born on April 18, 1906. Mr Babcock owns houses in the town of Waukesha, and in the villages of Mazomanie and Elroy; the property at Mazomanie includes two and one-half acres of land and the other two, good sized village lots.
FRANCIS BAKER
Source: 1907 Volume of Haight's Waukesha County Memoirs pg. 352
Francis Baker, a prominent citizen of the town of Eagle, is a descendant of good English families and is himself of English birth, a native of Devonshire, where he was born Dec. 10, 1845. His father, John Baker, was a native of the same place, born June 4, 1809, and died in Eagle in 1895. His wife, whose maiden name was Grace Bone, also a native of Devonshire, was two years younger than her husband and belonged to a well-to-do family. She died in the town of Troy, Walworth county, in 1891. The family left England in March, 1849, came to Milwaukee, where they remained but a short time, and then drove out to Melendy's prairie, Eagle township, where they staved for a fortnight with a family named Peardon. Proceeding to the adjoining county of Walworth, Mr. Baker purchased a farm of 206 acres upon which some improvements had been made. This was the family home until after the death of Mrs. Baker when the father made his home with his sons in Eagle township. Mr. Baker was a man of good business qualifications and enlarged his real estate holdings to 800 acres in the town of Troy, Walworth county, and the town of Eagle, Waukesha county. This property he divided among his children before his death. He was brought up in the Episcopal church--the state church of England--and was a man of great integrity of character, excellent judgment and independence of thought. He was a Republican and a strong supporter of the party, but would never accept any public office. His wife was a kind and affectionate mother and took great pride in her family. Although brought up to every comfort in her English home, she quickly accommodated herself to the rude conditions of frontier life and bravely did her part in the building of their home in the wilderness and the rearing of the nine children with which they were blessed. These, all living, are valuable members of the several communities in which they reside. William B., is a farmer of Troy township, Walworth county; Mary Jane, wife of John Gilbert, a farmer, resides in Walworth county; John, a farmer, resides in Osseo, Trempealeau county; Julius is a farmer of Rock county; Francis is the subject of this sketch; James is a farmer of DeWitt county, Ill.; Richard, a farmer, resides in Walworth county, as do also Edwin and Alfred, both farmers. Francis Baker was reared in Walworth county, and attended the district school, supplementing his earlier education by an attendance of two years at Milton college. He then taught school for four winter terms--one in Dodge county and three in Walworth--spending the summers on the farm. He was twenty-two years of age when he began teaching and farming on the old homestead, and remained in those occupations until 1879, at which time he came to Eagle township and settled a farm of 158 acres which his father had previously purchased. After rending for a year he bought the place and has since added to ti 109 acres making the latter purchase in 1892. General farming, dairying and stock raising are followed on the place.
Mr. Baker was married in October, 1879, to Lydia Ann Duffin, a native of Herkimer county, N.Y., born Nov. 10, 1854, and a daughter of John and Sarah (Means) Duffin, both born in Cambriddgeshire, England. They came to this country in 1853, to Wisconsin in 1855, settling in Mukwonago township, where they remained a short time and then went to La Grange, Walworth county, where they remained until Mr. Duffin's death. Mrs. Baker was educated in the Whitewater normal school, and following her graduation taught school for five years in southern Wisconsin and northern Illinios, continuing in that profession until her marriage. Mr. and Mrs. Baker have four children. J. Earl born Aug. 23, 1880, was educated in the Whitewater normal school, where he was graduated in the class of 1901. He taught for one year in the Fort Atkinson high school and another in the school for the blind at Janesville. He then entered the University of Wisconsin as junior and was graduated with honors in the college of letters and science with the class of 1906, having been a participant in the joint debate, steensland prize debate and the Nebraska Inter-collegiate debate; and was awarded membership in the Honorary Phi Beta Kappa fraternity for excellent scholarship and general high standing in the university. He also took a post-graduate course, finishing in February, 1907. He worked for the Milwaukee Journal for two months and then went to Washington, where he has a position with the inter-state commerce commission. During his vacations he had been employed by the tax commissioner in several counties of the state, so that he brought to his new position some knowledge of the work.
Sarah Alice, the oldest daughter, is a graduate of the Whitewater normal, finishing in 1904, and have been engaged in teaching since that time.
Lenna Grace, born June 6, 1884, was graduate at the Whitewater normal in June, 1907.
Aurel, born Oct. 4, 1886, is a graduate of the Whitewater high school and is now a teacher in the graded school of Eagle village. Mr. Baker and his family are important factors in the educational, moral and religious life of the community. The family is connected with the Methodist Episcopal church. Mr. Baker has been interested in temperance movements since the time of the old Washingtonian society. Of this society he was a member.
CARRIE BAKER
Source: Unknown
Early Norwegian Immigrant, Carrie Baker (Stenbon) widow of Ole Baker, came from Bakke, Norway in 1842. Settled in Muskego, Wisconsin where her husband died. Children were Ole, moved to Neb., and Sarah, who married Andrew H. Johnson. After the death of Ole (husband), Carrie moved to Norway, Illinois and married Peter Ormson.
Source: 1907 Volume of Haight's Waukesha County Memoirs pg. 354
NELS BALKMAN
Nels Balkman, a resident of Waukesha county of over half a century and well known throughout that part of the state, is a native of Christiania, Norway, the only child of Charles and Anna Christiana (Hansen) Balkman, the former born in Sweden and the latter in Norway. Charles Balkman attended school until he reached the age of fourteen years, when he went to sea and followed the life of a sailor for forty years, visiting in that time all parts of the world. In 1854, he came to America and purchased government land in the town of Merton, Waukesha county. This was a tract of 38 acres of wild land in section 21, which he began clearing, built a log house and here settled his little family. His wife did not long survive the transportation to the new home, dying in 1857, but her husband lived for thirty years, following all this time the vocation of agriculture and dying in 1884. They were both members of the Lutheran church and the father made many friends and acquaintances during his long residence in the county. Nels remained at home with his father until 1871, when he bought the farm where he now resides. This was originally a tract of 160 acres, but he later sold a portion of it, now owning 126 acres, of which 80 are under cultivation. General farming, dairying and rearing of live-stock are followed on the place. In 1868, Mr. Balkman married Caroline Jacobson, a native of Norway, a daughter of Lars and Bertha Jacobson, who came to the United States in 1850, and located in the town of Merton. Mrs. Balkmann died Oct. 4, 1901. Ten children were born to this union. Annie is married to Edward Tufts, a farmer in Merton township; Lawrence, a farmer of the same town, married Ida Severson; Albert is a farmer and also operates a threshing-machine. William (1st) died in infancy; William (2nd) follows the same occupations as his brother Albert; Nettie resides with her parents; Ella is deceased; Clifford, Edna, and Viola are members of the parental household. Mr. Balkman is a well educated man, having supplemented his education acquired at the public schools with a course at the Milwaukee business college. He has been a farmer all his life but also worked at times at the trade of mason. He is actively interested in local politics, supporting the Republican party, and has filled a number of public officers, among them those of supervisor and clerk of the school board, having held the latter position for many years. The family belongs to the Lutheran church at Stone Bank.
LAUREN BARKER
Source: probably 1907 Volume of Haight's Waukesha County Memoirs needs to be verified
Lauren Barker, farmer, Sec. 17; P.O. Brookfield Center; was born in Oswego Co., N.Y., Feb. 5, 1837. In 1845, he came to Wisconsin and his parents, William S. and Abagail Barker; settled in the town of Brookfield, Waukesha Co. During the war of the rebellion, he enlisted in Co. A, 2d W.V.I., and was an officer in active service in his company for over three years; he was honorably discharged in 1865. He married in Milwaukee, Elizabeth Scott; she was born in the town of Pewaukee, Waukesha Co., Wis., and was the daughter of Thomas Scott, an early settler of that town; they have two children--Clara J. and Jennie L. Mr. Barker owns seventy acres of land. In politics he is a Republican.
R. H. BARKER
Source: probably 1907 Volume of Haight;s Waukesha County Memoirs needs to be verified
R.H. Barker, farmer, Sec. 30; P.O. Box Waukesha; was born in Yorkshire, Eng., on the 28th of April 1851. While he was a child his parents, Robert and Elizabeth Barker, came to this country and settled in Pewaukee, where he died in 1876; she is still living. Nov. 7, 1871, R. H. Barker, the subject of this sketch, married in Brookfield, Waukesha Co., Wis., Rebecca Dixon, daughter of John and Matilda Dixon, early settlers and still esteemed citizens of this town. She was born in the town of Brookfield; they have one child--John R. Mr. Barker owns eighty-eight acres of land; is proprietor of a steam thrashing machine; is obliging and competent, and during the autumn months does a large business in thrashing grain, clover and timothy. He has filled various school offices, and is a Democrat in politics
EDWIN WILLSON BARNARD
Source: 1907 Volume of Haight's Waukesha County Memoirs pg. 354
Edwin Willson Barnard, a retired farmer and stock-breeder of Summit township, is a descendant of one of the old new England families. Samuel Barnard settled at Hartford, Conn., about the beginning of the eighteenth century. He married Sarah, a daughter of Caleb Williamson of Barstable, Mass., on Aug 12, 1714, and they had the following children: Sarah, Samuel (1), Timothy, Rebecca, Ebenezer (1), Ebenezer (2), Samuel (2). Ebenezer married Thankful Nichols and their children were Ebenezer, Cyprian, Thankful and Timothy. His second wife was a Miss Darrow, who bore him two daughters, Betsy and Sallie.
Cyprian Barnard, the grandfather of Edwin W., was also twice married, but no children were born to the first marriage. His second wife was Miss Wilson, by whom he had seven children. Two died in childhood; Elizabeth married Elisha Olmsted, for many years postmaster at Hartford, Conn.; Cyprian married a Miss Bacon of New Haven, Conn., where he and his wife both died, leaving a son John who is also deceased; William was lost at sea; Charles died after reaching manhood, and Edwin W. was the father of the subject of this sketch. He was born on Dec. 18, 1805, attended the common schools until he was about twelve or thirteen years old, when he ran away from home and found employment as a clerk in New York city. Later he became a bookkeeper and was for some time engaged in the commission business. He also owned a tow-line on the Erie canal, but had the misfortune to lose a number of his boats by storms and floods in 1843. During the next two years he settled up his business in the east, and in 1845 located in Waterville, Wis., where he opened a general store. He was part owner of the old "Milwaukee," the first steamboat to run into the port of Milwaukee. In his political opinions he was Democrat and was postmaster at Waterville until his death in 1857.
On March 7, 1831, he married Henrietta, daughter of John B. and Elizabeth (Barnard) Ripley, of Hartford, Conn., and a direct descendent of Governor Bradford who came over in the Mayflower. Her father was a farmer and at one time held the office of sheriff. Both her parents died in the Berkshire hills, not far from Blandford, Mass. They had twelve children who grew to maturity and two are now living in Connecticut-Edwin at South Windsor and James at Grainsville. Edwin W Barnard was born at Hartford, Conn., Oct. 29, 1838, and came with his parents to Wisconsin when he was about seven years old. He was educated in the common schools and at Carroll college at Waukesha, and in 1862 married Emma J., daughter of John D. and Sophia (Brown) McDonald. After his marriage he bought the Clark farm in the town of Summit and conducted it for three years, then sold it and bought the 160 acres where he now lives. He has made all the improvements on the place and has been successful, both as a general farmer and as a breeder of horses, hogs and cattle. For the last six years he has rented out his farm and has lived practically retired. Politically he is a Democrat, and while he takes an interest in all questions of a public nature and is a believer in good government, he has never been a seeker for political honors. He is a member of the Knights of Pythias lodge at Oconomowoc. Mr. and Mrs. Barnard became the parents of three children. Edwin is deceased. E. May married S.B. Smith of Clinton, IA., and died leaving one daughter-Henrietta R.-who now lives in Salt Lake, Utah. Henrietta R. married Elliott G. Atkins and now lives in Wausau, Wis. They have one daughter-May B.
J. D. McDonald, the father of Mrs. Barnard, was born at Johnstown, N.Y. He was left an orphan at the age of seven years and during his boyhood and youth worked in a glove factory in Gloversville. When he was about twenty years old he came to Wisconsin, located in the town of Summit, where he obtained a tract of 500 acres of land and cleared 160 acres of it with little assistance. It is said that he plowed the first furrow of the township. He also kept a hotel for some time and was a man of prominence and influence in the community. As a Democrat he was twice elected to represent Waukesha county in the state legislature. He died on Oct. 31, 1900, and his wife died on May 8, 1902. Of their children Mary married Clark Storey and is now dead; Emma J. is Mrs. Barnard; Isadore died in infancy; Daniel is a retired farmer of Summit township; John was a farmer in the same township until his death; Maggie is deceased, and her twin sister, Nellie, was the wife of James Crummey, of Waukesha county. Gardner Brown, the maternal grandfather of Mrs. Barnard, lived in early life at Massena, N.Y., where he was engaged in lumbering and merchandising. He married Ruth Plumley, whose parents removed from Vermont and located in Massena. In 1837 they came to Wisconsin and took up from the government 160 acres of land in Summit township, the farm now being the property of Mr. Barnard. Three months after coming to Wisconsin Gardner Brown was killed by a falling tree while working in the Fox River woods.
CHARLES A. BARNDT
Source: probably 1907 Volume of Haight;s Waukesha County Memoirs needs to be verified
Charles A. Barndt, born in the town of Granville, Milwaukee county, Jan 17, 1852, is the son of Abner and Leona (Leister) Barndt, both natives of Pennsylvania, but married in Granville. The father came to Wisconsin in 1844 and settling in Granville followed the vocation of farming until about four years before his death, when he retired and came to Menomonee Falls to spend his last days. He died in that village in 1894. His wife survived him eight years, passing away in 1902. They had a family of fourteen children, five of whom died in infancy. Of the nine children--six sons and three daughter--who came to years of maturity seven are now living. Charles A. acquired his education in Granville. When his school-days were over he began work for himself as a clerk in a store in Menomonee Falls and after spending three years in the employment, turned his attention to agricultural pursuits on a small farm of 40 acres about one mile from the village. This was his home until about three years ago, when he built the handsome residence in the village where he now resides. In his politics Mr. Barndt is a Prohibitionist and he is a member of the Evangelical Association. His fraternal associations are limited to membership in the Lincoln Masonic Lodge. On Sept. 7, 1876, Mr. Barndt married Miss Mary Wetleufer, daughter of Adam Wetleufer, of Illinois. The latter died in the army and his widow in the village of Menomonee Falls. Mrs. Barndt was born in Illinois, but reared in Waukesha county. Their two children are Nellie and Harrison A. The former born in Granville, Milwaukee county, is married to Perry Leister of the village and they have one son, Volney. The son was born in the town of Menomonee and still resides in the parental home.
MR. BARNES
Source: The Milwaukee Journal, (Milwaukee, WI) [December 08, 1891]; col D
Miss Nellie Horan, who formerly lived at Waukesha, was married at Chicago to Mr. Barnes, of St. Paul, where they will reside hereafter.
CHARLES BARTLETT
Source: Unknown
Following the death of his brother, Allison, and the hospitalization of Matt in December, 1918, both a result of the influenza epidemic, Charlie and George were called to Minot, North Dakota to look after their brothers' ranch and stock. Soon after arriving there, both also became ill and Charlie began a return journey back to Wisconsin. He became so ill that he was taken off the train at Eau Claire and died there on January 18, 1919. George, who had remained in Minot, was nursed back to health by a neighbor.
CHARLES BARTLETT
Source: History of Waukesha County, by Western Historical Company, Chicago 1880
Charles Bartlett, farmer, Sec. 3; P.O. Pewaukee, born in Portland, ME., 28 Dec 1805. When he was 5 years of age his parents moved to Chester, New Hampshire, thence to Greene Co., New York, when he was about 15. In early life he learned the carpenter and joiner's trade and followed it for several years. He married in the city of New York, in 1831, to ABBIE SMITH, a native of Prospect, New Jersey. In 1845 they came west and settled where they now live. Their children are: Smith, of this town, he married Grace MILL; Adeline, wife of Martin WEAVER, Pewaukee; Abbie A., wife of George G. YOUNG; Henrietta, wife of Alfred G. YOUNG; Vena, wife of George WHEELER; Frank, married Julia HORN, and John. Mr. BARTLETT owns 320 acres of land, most desirably located and well improved. There are few men more thoughtful and practical than Mr. BARTLETT. He has surrounded himself and family with all modern conveniences, and we find him enjoying that good, and in that prosperity and contentment which those who have devoted a lifetime to industry and integrity have a right to expect.
Cork Legs Once Made in Lisbon

Source: Waukesha Freeman, 16 Aug 1947
Back in 1931, an old account book which found its way into the hands of the Waukesha County Centennial committee brought to light the fact that at one time the only maker of wooded limbs in the United States lived in Waukesha County.
It seems that during the 1800's there lived a man by the name of BARTLETT in the town of Lisbon who, for a time, was the only cork leg manufacturer in the country. His account book revealed that he had recorded sales of artificial limbs to many prominent persons in the United States and abroad.
Perhaps the most famous of his patrons was General SANTA ANNA, leader of the Mexican forces in the border war with Texas and the man who wiped out the Alamo garrison. SANTA ANNA bought a total of two wooden legs from BARTLETT, for he lost his first artificial limb in a battle with the American troops. The second is said to be preserved in the Illinois State museum.
It was said that BARTLETT was not meager about the prices he set on his manufactures, and charged SANTA ANNA $1,300 for one limb. The Mexican General may have thought that he was having his leg pulled, but he paid up nevertheless, and all in silver. This silver BARTLETT had melted down and some of it made into spoons.
If any person knows where BARTLETT's account book is now or knows where any of those spoons are, the Waukesha County Historical Society would appreciate getting this information.
Pewaukee Early Settler Made the Wooden Leg
Source: Milwaukee Journal Monday January 19, 1942
CHARLES BARTLETT, formerly a cabinet maker in New York City, made the wooden leg pictured. The picture is of two young ladies, Jean BUTLER and Patricia HODNETT, holding the wooden leg that belonged to SANTA ANNA, a Mexican general. It was picked up in a Mexican war battle by an Illinois soldier and has been on display since in the Springfield (Illinois) Historical library. The Illinois Legislature has voted to return the trophy to Mexico as a friendly gesture to help 'good neighbor' relations.
In 1845, Charles BARTLETT, together with his family, came to Pewaukee, having closed his cabinet business in New York City. He built his home on a 320 acre tract of land about a mile north of the village and often related in conversation with his neighbors that he once made a wooden leg for General SANTA ANNA. When Mr. BARTLETT moved to his farm home, there was no post office in Pewaukee. The early settler had to go to Praireville (now Waukesha) to get their mail. This was also before postage stamps were made. The early settlers receiving letters from eastern friends had to pay 25 cents for each letter before it was delivered to them.
HENRY DANFORTH BARRON
Source: The Bench and Bar of Wisconsin: History and Biography, with Portrait, by Parker McCobb Reed, 1882
Henry Danforth Barron, Saint Croix Falls, was born at Wilton, Saratoga county, New York, April 10, 1833. His education was in the common schools, after completing which he entered the law school of Ballston Spa, New York, and graduated in due course, which admitted him to practice in the courts and state.
In 1851, at the early age of nineteen, an enterprising spirit and sound judgement summoned him west, and he took up his residence at Waukesha, Wisconsin. Becoming editor of the Waukesha "Democrat," he changed its name to the "Chronotype," and conducted it successfully for several years. Im 1853 he was appointed, by President Pierce, postmaster of Waukesha.
In 1857 he changed his residence to Pepin, where he entered upon the practice of his profession, which he pursud until July 1860, when he was appointed, by Gov. Randall, judge of the eighth judicial circuit, comprising the northwestern counties of the state, and a circuit of large area and great importance. Soon afterward Judge Barron moved to St. Croix Falls, and in 1862 was unanimously elected member of the assembly from the counties of Ashland, Bayfield, Burnett, Barron, Douglas and polk, and was reelected in 1863, 1865, 1867, 1868, 1871 and 1872 .
He ws speaker of the assembly for the session of 1866, and again for 1873. As one of the republican presidential electors-at-large in 1868 he was president of the electoral college of that year, and performed the same duties for the same party in 1872. Having een elected, by joint ballot of the legislature, a regent of the Wisconsin State University in February, 1863, he continued in that ofice until his election as circuit judge, in 1876. he was for many years one of the vice-presidents of the State Historical Society.
President Grant nominated Judge Barron, in March 1869, for chief justice, when, in April following, the President appointed him fifth auditor of the United States treasury, which was accepted; and serving n that capacity until January 1, 1872, he resigned the office to take a seet in the assembly, to which he had been elected by his former constituents. In May, 1871, he was appointed by Governor Fairchild a trustee for Wisconsin of the Antietam Cemetery Association. He was elected to the senate in 1873; reelected in 1875; was president pro tem. for the last named session, and resigned his seat before the expiration of his term to enter upon the duties of circuit judge of the eleventh judicial circuit, to which he had been elected.
Judge Barron died at his home at St. Croix Falls, January 23, 1882, and was buried at Waukesha, where his relatives reside.
Judge Barron had long been a conspicuous figure in the politics of this state, and, in various public capacities, had done the commonwealth valuable service. As a judge he was credited with singleness of purpose, upright and impartial. As a man he was true to his friends and his convictions, of great force and decision of character, frank and open in speech and act, independent and incorruptible.
Also: By act of the legislature in 1869 the name of Dallas County was changed to Barron County in his honor.
FRANKLIN B. BARTLETT
Source: Unknown
Franklin, in partnership with his brother, Smith, owned and operated the 106.67-acre Meadow Brook Farm in Section 3, Pewaukee Township. In the same section and township, Franklin also owned additional tracts of 31.36 acres, 91.48 acres, and 15 acres.
JOHN TRUESDELL BARTLETT
Source 1907 Volume of Haight's Waukesha County Memoirs pg 357
John Truesdell Bartlett, mayor of Oconomowoc, was born in the city of Chicago, Ill, Aug. 6, 1864, a son of Alexander and Mary A. (Truesdell) Bartlett. The paternal grandfather, John Bartlett, was a native of Vermont, who married Mary Price of New York, and in 1848 came to Wisconsin, locating first in Milwaukee, but after a short residence there removed to Waukesha. Subsequently they lived at Concord, Jefferson county and at Oconomowoc, and in 1864 settled at St. Frances, where they passed the remainder of their lives. On the maternal side Mr. Bartlett's grandparents were John and Ellen Truesdell, who came from Vermont to Wisconsin in the early 40's. Alexander Bartlett was born in Massachusetts in 1837 and his wife was born in Vermont on Dec. 25, 1843. They were married on Aug. 26, 1863, and their children were John T. James, Alexander, Frank, Ella, Mabel, George, William, Mary and Lester. The father was a house and sign painter by trade and worked at this occupation in Chicago. Oconomowoc and St. Paul, Minn. John T. Bartlett received his education in the public schools of Chicago and in early life embarked in the real estate business. He was engaged in this line in St. Louis, Mo., for five years and is now interested in real estate transactions at Oconomowoc in connection with his ice business. He is a Republican politically and after serving for six years as alderman was honored by election to the mayoralty, in which office he is now serving his fourth year. He is a member of the Masonic fraternity, the Knights of Pythias, the Royal Arcanum, the Business Men's league, and belongs to the Episcopal church. On June 17, 1896, was solemnized the marriage of Mr. Bartlett to Miss Lura Dell, daughter of John P. and Charlotte (Armstrong) Foss, of Oconomowoc, and this union has been blessed by two daughter, Gladys Adele, born April 1, 1897, and Doris Isabelle, born Dec. 31, 1901.
MATT BARTLETT
Source: probably 1907 Volume of Haight's Waukesha County Memoirs, needs to be verified
Matt Bartlett, son of Smith and Grace BARTLETT, early pioneers of Pewaukee, was born September 3, 1877. In 1908 he left for Minot, North Dakota to take up a claim, on which he lived with his brother Allison. All went well until the winter of 1918-1919, when the influenza epidemic covered America. Allison died on 17 Dec. 1918, Matt was taken to a hospital, and a message sent back to Wisconsin for help to come out and look after the ranch and stock. Charlie and George volunteered, only to become ill soon after arriving. Charlie started for home, was taken off the train at Eau Claire, Wisconsin and died there. George was nursed by a neighbor and recovered. Giving up the ranch, Matt lived at Makoti, North Dakota by himself. His kindest neighbor was Leland M. CARPENTER, who looked after his welfare as he grew old. Matt died, August 8, 1956, burial at Forest Hill Cemetery, Pewaukee, Wisconsin.
Matthew never married, nor had any children.
JULIUS BARTZ
Source 1907 Volume of Haight's Waukesha County Memoirs
Julius Bartz is a native of Wauwatosa, Milwaukee county, his father having come to American in 1873 and locating in Milwaukee. Previous to his immigration he was a soldier in the German army and took part in the Franco-Prussian war of 1870. After living in Milwaukee a year the family moved to Wauwatosa township, where the father bought 24 acres of land, working at the same time in a lime-kiln. After living there four years they removed to Pewaukee township and six years later to the farm where Julius now lives. The father, now seventy-five years of age, still makes his home there, his wife having died in 1894. Except about tow and one-half years, when he was engaged in carrying milk, Julius has spent his life on the farm which he bought from his father and now devotes principally to dairying, making his own butter. He raises some stock but only for his own use. There were eleven children by the second marriage, of whom six are living, viz: Amelia, wife of Louis Golemjesky, a resident of Pewaukee township; Julius, of this sketch; Minnie, wife of Albert Goerlitz, a resident of Milwaukee; Augusta, wife of August Gehrt, a resident of Lake, Milwaukee county; Albert, a resident of Milwaukee, and Herman who lives with his brother Julius. Two children were born to a former marriage, neither of whom are living. Julius was educated in the district schools of Pewaukee and Brookfield townships and on arriving at maturity married Miss Maggie Galliten, a native of Oshkosh and the daughter of Frederick Galliten, now residing at Marshfield, Wis. Her mother is deceased. To Mr. and Mrs. Julius Bartz five children were born, the first of whom died in infancy. The others are Viola, Vernie, Mabel and Margaret, the last also deceased. The family belongs to the Lutheran church and Mr. Bartz supports the Republican party, although he has never taken a part in practical politics.
EDYTHE ANN BEAUMONT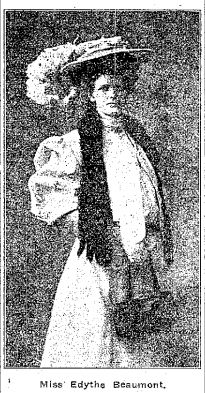 The above portrain is that of a Waukesha county lady who is winning distinction as a singer and who will give a song recital at the Congregational church here on Tuesday evening next, Dec. 3. assisted by Charles Lurvey, accompanist. The program will be as follows:
A Land of Roses....Theresa de Riego
A Gipsy Maiden 1...Henry Parker
The Parting Hour. ...Ellen Wright
Spring Again...........Ellen Wright
Angels Guard Thee...Godard
Murmuring Zephyr ........Jenson
Valse Per Canto........Elmilio Pizzi
Serenade..........Franz Schubert
The Rose...Noel Johnson
The River and the Sea.....Noel Johnson
Still Wie Die Nacht.....Carl Bohm
I Love You......Carl Sobeski
A Dream...Bartlett
Love's Springtide......W. G. Hammond
Good Night, Sweet Dream's.....W. J. Biscohff
NICHOLAS BECKER
Source: 1907 Volume of Haight's Waukesha County Memoirs
Nicholas Becker, one of the prosperous farmers of the town of Menomonee, was born in the adjoining town of Granville, Milwaukee county, Nov. 15, 1853. Both of his parents, John and Catherine (Castler) Becker, were natives of Germany. The father was among the pioneers of this part of the state, coming in 1840 when practically the whole country was wild, and the few settlers who ventured into the forests were obliged to endure great privations and hardships in their efforts to subdue the wilderness. John Becker located in the town of Mequon, Ozaukee county, but a few miles from the location which became his home in later life, and although he was a carpenter by trade, like many others of his countrymen, to whom the possession of the landed estate was impossible to their native land, he chose in his new home the occupation of a farmer. To the first 40 purchased, 80 acres in adjoining town of Granville, Milwaukee were later added and this was his family home for many years. There were ten children in the family, the subject of this sketch began to help on the farm at the early age of ten years. His education was obtained first in the parochial Catholic school in Fussville and later in the public school at Granville. Nicholas remained as a helper on his father's farm until his marriage made it necessary to establish a home of his own, when he purchased the Granville place of his father. He resided there for six years and made many improvements, but finally sold the farm and purchased the one where he now lives. This is a well cultivated and well-equipped farm of 133 acres, upon which Mr. Becker has built a beautiful home, large and commodious barns and other buildings. Mr. and Mrs John Becker, the parents of the subject of this sketch, are both deceased, the mother dying in May, 1902, and the father in Jan. 10, 1904. Their later years were spent in the home of their son Nicholas. The other three who are living are George, residing in the town of Lisbon; Henry, a member of the Police force of Milwaukee; Stephen, employed by the Chicago, Milwaukee & St. Paul Railroad Company and residing in Milwaukee. Mr. Becker was married on May 28, 1879 to Margaret Schneider a native of Menomonee township, daughter of Adolph and Margaret (Hargerton) Schneider, both born in Germany. Her father was also among the early settlers, coming in 1845, and was a farmer. Both parents died several years ago. Mrs. Becker received her education at the parochial school at Fussville and the public school of Menomonee Falls. To Mr. and Mrs. Becker have been born ten children, Katie married Michael Pellman, a farmer, and now lives in the town of Granville, Milwaukee county; John resides with his parents, as do all of the younger members of the family, Alma, Anna, Louisa, Martin, Nicholas, Theresa and Mary. George, the third child , is deceased. The family is connected with the Catholic church and Mr. Becker's political affiliations are with the Democratic party, although he has never taken an active part in political affairs, or cared for the honors of office.
PETER BECKER
Source: 1907 Volume of Haight's Waukesha County Memoirs
Peter Becker, a native of Wisconsin, was born on Feb. 7, 1877, and is the son of George and Katherine (Mitchell) Becker, who immigrated to America from Germany in 1872. The family first located in Franklin, Sheboygan county, Wis., moving from there to Germantown, Milwaukee county, thence to Stockbridge and later to Sherwood, both in Calumet county. The last place was the residence of the parents at the time of the father's death, March 12, 1895, and there the mother, now fifty-eight years of age, still resides. Peter Becker remained with his parents until he was sixteen yeas of age when he went into a shop in Sherwood to learn the blacksmith's trade, remaining there three and one-half years. After working for a short time in a bicycle shop in North Milwaukee he went to the village of Fussville, Waukesha county, where he took up the trade of wagon-making, remaining there for two and one-half years. His next move was to the village of Brookfield where for the greater part of a year he was in the employ of Mr. Herman Schatz, then bought his employer's stock of goods and opened a shop of his own. Three years later he purchased two lots in the village, and erected a shop 22x60 feet, where he has installed all the necessary machinery and equipments (sic) for wagon-making, general repairing and horse-shoeing, making a special feature of the last mentioned line of business. He is agent also, for the celebrated Fairbanks engines, etc. Carriage painting is also done in the shop, a full line of paints and oils being carried. Mr. Becker is one of a family of four sons. Joseph the eldest, is a wagon-maker by trade and lives in Sherwood; Matthew, who combines the occupations of farmer and mason, resides in the same village; Peter, the subject of this sketch, is the third son; William, a molder by trade, is a resident of Milwaukee. Peter obtained his education in the village school at Sherwood. On Aug. 21, 1906, he married Miss Ida Bolster, born in Brookfield township, and the daughter of John and Emma Bolster, both American born. One child, Lloyd, born to them died at the age of two months. Mr. Becker is a member of the Catholic church and of the Democratic party. He has never entered the field of practical politics, his time and attention being occupied with the concerns of the thriving business which he has built up, and by means of which he is able to supply his family with all of the comforts and some of the luxuries of life.
CHARLES H. BEIER
Source: 1907 Volume of Haight's Waukesha County Memoirs
Charles H. Beier, one of the substantial farmers of German antecedents who have developed the northeastern part of Waukesha county, was born in Waukesha township, Jan. 3, 1867. His parents, Christ and Anna (Duvel) Beier, were both born in Germany, the father coming to the United States in the 50's and after working for some time in Waukesha, rented a farm until he was able to purchase the homestead of 85 acres where the son Edward now resides. This place the father improved, building a mill, house and barn, and lived there until his death in 1894. His wife is still living on the homestead. there were three sons in the family, two of whom are living, John, the second, having died in 1904. Charles H. is the oldest of the three, and Edward of Lisbon, the youngest. All were educated in the town, attending what is known as the "Plank Road" school. Charles H. left home when but fourteen years of age and after working on a neighboring farm for a year took his "wander-jahre," and traveled through Iowa and the Dakotas, with a party of fence-builders. Returning to Waukesha county he want to work at the carpenter trade and followed the same for seven years previous to purchasing his present place. This is a farm with good improvements, for which he has refused an offer of $5,000. It has excellent buildings and is run principally as a dairy and stock farm. The poultry business also receives considerable attention, the specialty being white Plymouth Rocks, which have taken the first premium at the state fair at Milwaukee. Mr. Beier was married Oct. 1, 1890, to Amelia Fiedler, daughter of Charles Fiedler, of Pewaukee, where Mrs. Beier was born and educated. They have one daughter, Theresa B., aged thirteen, now about to finish the work of the district school. In politics, Mr. Beier is a Republican. He has served as treasurer of the town for one term, on the board of side supervisors two terms, and has also been director of the school board for six years. The family belongs to the German Reformed church of Pewaukee.
FRANCIS BELL
Source: Probably 1907 Volume of Haight's Waukesha County Memoirs, needs to be verified
Francis Bell, Sec. 1, P.O. Butler; was born in County Tyrone, Ireland; in the year 1816; he came to this country in 1839, lived in Jersey City, N.J., one year, then went West to Rockland Co., N.Y., where he remained until his coming to Wisconsin in 1841; he settled in the town of Brookfield, Waukesha Co., which has been his home since. He has been married three times; his present wife was Kate Keels. His eldest son, James C., is in California; Frank, his second eldest, was in sixty two engagements during the late war, and was a brave soldier; he died in Brookfield; Robert, the third eldest, served in the 5th W.V. I. all through the war, and was honorably discharged at its close; he lives in Columbia Co., Wis; William, the fourth oldest of the sons, is a merchant in Nevada; Samuel is also in Nevada; Jane, the eldest daughter, was the wife of Samuel Harrison; he served in the 24th Wisconsin Regiment during the war, and was a good soldier; he died in 1879; Martha E., the second eldest daughter is the wife of E. Tobin,of Wauwatosa, Wis.; the third eldest daughter, Elizabeth, is the wife of William Dougherty; he was a soldier in a Wisconsin regiment during the war of the rebellion; the sixth eldest son, Stewart, is in Columbia Co., Wis.; Edward and George, the two youngest, are at home; one daughter, Mary A. is deceased. Mr. Bell owns a well-improved farm, pleasantly located.
C.F. BELTZ
Source: History of Dakota County and the City of Hastings, including the Explorers and Pioneers of Minnesota , and Outlines of the History of Minnesota". By Rev. Edward D. Neill and J. Fletcher Williams. Published in Minneapolis by North Star Publishing Company, 1881 Page 301
C.F. Beltz, was born in Saxony, October 4th, 1840. Came to America in 1853 with his parents and first located in Oneida county, New York. In 1856 removed to Waukesha county, Wisconsin, and learned the trade of mason. During the fall of 1859, went to Milwaukee and clerked in a wholesale liquor store until 1861, when he enlisted in Company F, Sixth Wisconsin Infantry and served until honorably discharged as first sergeant July 28th, 1864. He passed about five years in prospecting, and in 1869, bought a farm in Iowa. Soon after came to Austin, Minnesota, and worked at his trade until coming to Hastings. Continued in the pursuit of his trade till 1878, then assumed charge of the present business in behalf of the Peller estate, and soon after for Shroth, the firm being formerly Peller and Shroth. In 1879 he purchased the business of Mr. Otte, and still continues dealing in leather, harnesses and. hardware. Married in April, 1869, to Margaret Link, of Wisconsin. Amanda H., Frances L., Oswald C. and Carl N. are their children.
ERNST BENECKE
Source: 1907 Volume of Haight's Waukesha County Memoirs
Ernst Benecke, an old and respected citizen of Waukesha township, was born in Erfort, Germany, April 17, 1846. His parents, Ernst and Augusta (Meininger) Benecke, are natives of the same place, immigrated to American in 1847, locating on the farm where their son, the subject of this sketch, now resides. The father died ten years after coming to Wisconsin, and upon Ernst, the oldest of eleven children, fell the burden of care in assisting his mother in the rearing of the younger ones. Many hardships fell to his lot. As a mere boy, before he was able to do other work, he was obliged to watch the cattle, and for want of shoes protected his feet from the rough ground by tying on them bits of board. His opportunities for education under the circumstances were limited, begin only such as could be obtained at the district school. Mr. Benecke has faithfully discharged the duties which the early death of his father laid upon him. He has never married, but made a home for his mother until her death, Sept. 7, 1899, after forty-two years of widowhood. His home is also shared by two unmarried sisters, Emma and Sarah. The oldest sister, Harriet, now Mrs. John Hoffman, resides in Brookfield. Mr. Benecke is a Republican in his political faith, and has served as assessor for three terms, district clerk of schools for twenty-one years, and other school offices. He belongs to the Lutheran church, but to no other organization. He was formerly connected with several lodges, but has not in later years maintained these memberships. At the time of the Civil War, Mr. Benecke, then a lad in his teens, tried to enlist, but was rejected on account of defective eye-sight. He has a fine farm of 160 acres, and this will in all probability remain his home in the future, although he has considered the advisability of a change to a less strenuous life, for his declining years/
[ Back to top ]
FRANCES AUGUSTA OLIN-BENNETT
Source: A complete Record of John Olin Family by C.C. Olin, Historian; 1893
Frances Augusta Olin Bennett, the daughter of James and Elizabeth Abbot Olin, was born August 25, 1845. She was married to Richard E. Bennett May 13, 1869. Four children were born to them, Carey L., Anah C., Flora E., and Ida M., of whom two are living, Anah and Ida M. Her school advantages were quite limited in early life, only attending the district school where her parents lived, and her health was such as to preclude her from constant attendance for quite a number of years. But later on she attended school in Milwaukee at the Milwaukee Female College, living with her uncle, Daniel A. Olin, in that city. She also took lessons in music and became quite proficient in that direction. Her two or three terms of attendance at the Female College in Milwaukee was a great benefit to her. It gave her broader views of a good and substantial education, and on her return home, as her health improved,, she attended school at Omro, Wisconsin, within a few miles of her father's farm. ......
[ Back to top ]
HERMAN BENTE
Source: 1907 Volume of Haight's Waukesha County Memoirs
Herman Bente, owner of the "West Side Farm" on the shores of Golden lake, was born in Hanover, Germany, Nov. 10, 1839, and is the son of Henry and Louisa Bente, both of the same place. The father was a carpenter by trade, who in 1849 with his family set sail for America, being forty-eight days on the ocean and landing at the port of New York. They continued their journey to Milwaukee and after remaining a short time in the city located in the town of Concord, Jefferson county, Wis. The farm of 40 acres which they purchased had a small clearing of two acres and on old shanty, but with these exceptions all the improvements on the place were made by the father and sons. The former also worked some at his trade. He was a Democrat, a member of the Lutheran church, and the father of four children. George, the eldest, is now the owner of the homestead; Herman is the subject of this sketch; Charles is a wagon-maker by trade and lives in San Francisco, Cal.; Henry, now retired from active work, lives in Oakland, Cal. Herman had only a limited opportunity for education, and that was confined to the district school in the vicinity of his early home. He helped on the home farm and also worked out by the month until 1864, when in company with his brother, Charles, he went to California, taking the ocean trip, and going via New York. Herman remained until 1867, working in a quartz mill and also for some time on ranch. After his return he purchased the farm where he now lives, a place of 133 acres in section 31, town of Summit, located on the west shore of Golden lake. It was at the time heavily covered with timber. Mr. Bente was married Aug. 22, 1867, to Miss Amelia Andra, a native of Prussia an daughter of Gotleib and Caroline Andra, both of the same country. They came to the United States in 1849 and located in Jefferson county, where the father followed the vocation of farming for many years, but is now retired. To him and his wife five children were born. John is deceased; Gustave is a resident of Findley, N. Dak.; Amelia is Mrs. Bente; Adam and Ferdinand both live in the city of Milwaukee. Mr. and Mrs. Bente are the parents of ten children. Caroline is the wife of Francis Fresch of Summit; Charles is a butter-maker of Delafield; Herman, Jr. is in charge of the home farm; Gustave is the proprietor of a hotel in Colby, and Arnold, the youngest is at home. Since occupying the farm Mr. Bente has cleared 80 acres, erected all the buildings and made practically all the improvements. The principal business of the place is connected with dairying and such general farming as is necessary for the support of a dairy herd. The proprietor is an industrious and careful workman and an excellent manager. He is a Democrat and has served the public interests in some local offices. The family belongs to the Lutheran church.
[ Back to top ]
MATTHIAS BERES
Source: 1907 Volume of Haight's Waukesha County Memoirs pg 362
Matthias Beres is a son of one of the German pioneers of 1847. The parents John and Mary (Berberich) Beres, both natives of Hesse-Darmstadt, Germany, came in that year to the town of Greenfield, Milwaukee county, accompanied by their three elder children, Christopher, John and Mary. The family home was in that township until 1882, and there the other children, six in number were born. They moved in the spring of 1882 to the town of Caledonia, Racine county, where they purchased a small farm of 20 acres. There the father died in 1883 and the mother in 1885. The family has quite a military record, the father having served three years in the Germany army and the two older sons, Christopher and John in the 26th Wisconsin infantry in the Civil war. Of their children four sons and two daughters are living, one of the daughters and two sons being deceased. The survivors are Christopher of New Berlin; Peter of Juneau county; Anton of Racine county, Matthias of Waukesha county, Lizzy (Mrs. Schneider) of Juneau county, and Agnes (Mrs. George) of Racine. Matthias came to Waukesha county March 28, 1881, a date made memorable by a snow-storm of unusual length and violence. At that time he rented a farm of 40 acres, which he has since purchased and improved by the erection of buildings, fences, etc. Later he bought a farm of 45 acres adjoining on the west, formerly owned by Harry Cheney, and in 1907 bought 40 acres of Sylvanus Gilbert, adjoining his place on the northeast, so that he has now a fine property of 125 acres, which is devoted to general farming and dairying. Politically Mr. Beres is a Democrat. He has taken an active part in local politics serving on the town board for four years, as town treasurer for two years, as assessor for three years, and has been path-master for twenty-five years. He was married on Nov. 23, 1876, to Anna, daughter of Peter Weber, who was born on a farm in the town of New Berlin and reared in that vicinity. Her parents, now deceased, came to Wisconsin in 1853. Mrs. Beres was born in 1855 and her father died when she was six months old. The nine children of Mr. and Mrs. Beres are as follows: Susan (Mrs. Mathias Burbach) of New Berlin Center, Mary (Mrs John Sterzinger) of West Allis, Anton, Joseph, Anna, Matthias, John, Maggie and Nicholas, all born in Waukesha county with the exception of the two eldest who were born in the town of Greenfield, Milwaukee county, and all, with the same exception still members of the original family circle. They belong to the Holy Apostle Catholic church of New Berlin, the father having been secretary of the church for seven years and is now on the building committee of the new church, the old one having been struck by lightning July 3, 1907, and burned. Mr. Beres is a self-made man, his accumulation of property being the result of personal effort and energetic labor of himself and wife. He enjoys the respect and friendship of all who know him.
[ Back to top ]
FRANK BERSCHENS
Source: 1907 Volume of Haight's Waukesha County Memoirs
Frank Berschens, born in the town of Menomonee, July 3, 1881, is the son of John and Magdalena (Waldbilger) Berschens, both natives of Germany, the former-born July 5, 1840--died in Menomonee, Oct. 4, 1906, and the later-born Sept. 29, 1839-is still living on the homestead. They were married in Germany, and immigrated to the United States in 1879, coming directly to Waukesha county. For the first year or two they rented a farm, then bought 20 acres in the town of Menomonee, on which place their son Frank was born, and which was the home of the family, although the little farm did not occupy all the time of the father. After coming to this country he learned the trade of stone-cutter, having previously learned that of the carpenter and cooper in his native land, and he worked at one of the other as circumstances permitted. In Germany he has served in the army, but he was a man of quiet and somewhat retiring disposition, taking little interest in political affairs, although he voted with the Democratic party, and held the office of side supervisor for one term. There were four children in the family, three of whom are living. Mathias, the oldest,-born in Germany Nov. 26, 1867,-is unmarried and lives on the farm with his mother. He is a stone cutter by trade and works for the Davis Bros. of Lannon. Elizabeth, also a native of Germany, was born Nov. 10, 1869, is now the wife of Anton Wick, a farmer of Menomonee and the mother of five children. Frank is the youngest and also makes his home with his mother. He was educated in the district schools, and started out for himself in 1899, when he was eighteen years of age, working on a farm by the month. A year later he went to work in a stone quarry, remaining a short time, and then entered the employ of A.F. Hiners, in a general store in Lannon. Two years later he was similarly employed in the store of J.L. Dearing in Granville, Milwaukee county, but at the end of six months, he returned to Lannon, worked in the general store of George J. Loos, for three and one-half years, and then, in partnership with his brother and Frank Schroeder, bought the store, which is now run under his supervision. Since April 1, 1907, he is also assistant postmaster at Lannon, although independent in politics. Mr. Berschens and his partners are the only general merchants in the village of Lannon and carry a full line of dry-goods, groceries, hardware, general furnishings, patent medicines, etc.
[ Back to top ]
MRS. A. M. BEVIER
Source: Unknown Probably 1907 Haight's Waukesha County Memoirs, needs to be verified
Mrs. A.M. Bevier, farmer, Sec. --(sic), P.O. Butler; is a native of Ontario Co., N.Y., where she was married to her first husband, Andrew W. Cleveland, of Naples, N.Y. They came to Wisconsin in 1845, and settled in the town of Brookfield, Waukesha Co. During the war of the rebellion he enlisted in the 24th W. V. I. He died in the service, a gallant soldier. Their eldest son, Ephraim, was a soldier in a Wisconsin battery, during the war of the rebellion; he married Mary DeCamp, of Brookfield. The eldest daughter, Frances, is the wife of William Coleman, of Milwaukee; Aldermorn, the second oldest son, married Emma Depue; Andrew, the third eldest son, married Frances Curran; Myron H. fourth eldest son, married Ella Duchein; Eva K. second eldest daughter, married Fred Cain; Jennie, third eldest daughter, is the wife of John Bell; Olney, fifth eldest son, is unmarried. Mrs. Bevier owns 80 acres of finely improved land. By her marriage with Mr. Bevier, there is one daughter, Cornelia.
[ Back to top ]
MRS. AMY HADFIELD BLAIR
MRS. RUTH AVERY HADFIELD FOLTZ
Sources: Amy: The National Society of the Daughters of the American Revolution, Volume 63 page 270
Ruth: The National Society of the Daughters of the American Revolution, Volume 70 page 285

Amy: Daughter of the American Revolution DAR ID # 62811 
Ruth: Daughter of the American Revolution DAR ID # 69808
See also (George A. Hadfield bio)

DAR Member
Descendant of Solomon Avery.

Solomon Avery
	b: 1729 in Groton, Conn.
	d: 1798 in Luzerne County, Pa.
	m: 1751
	to: Hannah Punderson
	b: 1733
	d: 1775
Solomon Avery a patriot, who in 1780 solicited arms from 
Connecticut to build a fort.

Child of Solomon and Hannah (Punderson) Avery:
	Henry Avery
	b. 1767
	d: 1852 (also 1853)
	to: and Hannah Rockefeller
	b: 1780
	d: 1865

Child of Henry and Hannah (Rockefeller) Avery:
	Elizabeth Avery
	b: 1808
	d: 1865 
	m: 1831
	to: Conrad P. Silvernale
	b: 1809
	d: 1892

Child of Conrad P. and Elizabeth (Avery) Silvernail:
	Lucinda Silvernale
	b: 1831
	d: 1888 (also 1886)
	m: 1849
	to: Thomas Dennis Cook
	b: 1824
	d: 1901

Child of Thomas Dennis and Lucinda (Silvernale) Cook:
	Annie E. Cook
	b: 1850
	m: 1868
	to: Abram H. Hadfield
	b. 1849

Child of Abram H. and Annie E.(Cook) Hadfield:
	Amy Hadfield

Also No. 59428.  

[ Back to top ]
LOT BLANCHARD
Source: Unknown
Lot Blanchard was not listed in any other census other than the 1840. The first meeting for the organization of the Town of Brookfield, April 5, 1852, was held at the home of Lot Blanchard. Lot was the moderator and Moses Putney was elected Town Chairman.
[ Back to top ]
C. A. BLODGETT
Source: Unknown
C.A. Blodgett, farmer, Sec. 29; P.O. Waukesha; was born near Buffalo, N.Y., Oct. 13, 1827; he came to Wisconsin in 1843, and has resided in Brookfield since that time, with the exception of a few years he was engaged in the milling business, in Wauwatosa, Milwaukee Co.; he has been elected to different offices; was a member of the Board of Supervisors of Brookfield several times; Justice of the Peace and other local offices; he owns 80 acres of land. Mr. Blodgett has been married three times; his present wife was Caroline Fritz; he takes an active interest in public matters, and is a liberal and enterprising citizen.
[ Back to top ]
W. R. BLODGETT
Source: Unknown
W.R. Blodgett, farmer, Sec. 20; P.O. Brookfield Center; was born in Ontario Co., N.Y., on the 4th of December 1822; he came to Wisconsin in 1842, and settled in the town of Brookfield, Waukesha Co. where he has since lived; he has been twice married; his first wife was Adeline Wadsworth, of Yates Co., N.Y.; his present wife was Zelphia L. Wadsworth; they have one son, William W.; he married Miss Mary Buckley; they reside in this town, Brookfield. Mr Blodgett owns 160 acres of land; he has filled various offices; was Clerk of the town of Brookfield for nearly twenty years, and a member of the Board of Supervisors several terms.
[ Back to top ]
BENJAMIN F. BOORMAN
BUSINESS EMBARRASSMENTS
Source: The Milwaukee Sentinel, (Milwaukee, WI) Thursday, May 03, 1883; pg. 3; col B
Waukesha, May 2-A profound sensation was caused here to-night by a rumor that Benjamin F. Borman, proprietor of the Waukesha, Forest City and Pewaukee Flouring Mills, had failed. Mr. Borman was found at his residence and in a measure corroborated the report. He gave the following statement: Some days ago John Howitt called and asked for collateral which, owing to the sacrifice, I refused, as if giving him others would want the same which would eat up everything. Yesterday he again visited me and I told him I would give him a mortgage on the Pewaukee real estate which seemed satisfactory. I visited Charles Cork and gave each a mortgage on the Pewaukee property, and today they served attachments. Their claims are: Howitt, $1250, and Cork $3100.
Mr. Borman, owing to the attachments, expects a rush of creditors, which will necessitate the closing of his mills; he states that he can liquidate the indebtedness if his creditors are lenient. His total liabilities are about $45,000. The Waukesha mill is valued at $45,000, and the Pewaukee mill at $35,000. Aside from these Mr. Borman owns several valuable pieces of real estate.
The Milwaukee Sentinel, (Milwaukee, WI) Saturday, May 12, 1883; pg. 2; col D
CLOSED BY CREDITORS
Boorman, the Waukesha Miller, forced to Assign
Waukesha, May 11-An excited and decidedly tumultuous meeting of the creditors of B.F. Boorman was held here to-day. At first some kindness was manifested toward the insolvent miller, but this speedily gave way to the indignation when it was found that after paying some secured claims, amounting to about $28,000, there remained but $2000 for distribution among the creditors, and a motion that an assignment be insisted upon was carried almost unanimously. During the discussion some very uncomplimentary epithets were bandied about, Mr. Boorman belag stigmatized as a falsifiers and swindler. Finally Mr. Boorman consented to make an assignment and a committee was appointed to select an assignee, but when his name was presented, it was rejected by Mr. Boorman, who declined to assign to pay one except Mr. Blodgett. As a power of appointment reseted with Mr. Boorman, the creditors had no choice in the matter and finally agreed to accept Mr. Blodgett.
After the adjournment all kinds of defamatory remarks were heaped upon Mr. Boorman by his creditors who frankly admit that they will not receive over 10 cents on $1.
Following was a list of liabilities and assets.
[ Back to top ]
SHERMAN M. BOOTH
Source: Waukesha Freeman August 18, 1904
(There is a picture of Sherman BOOTH)
DEATH OF SHERMAN BOOTH
Was Editor of American Freeman, First Paper Published At Prairieville
Sherman M. BOOTH, one of the last survivors of the Abolition movement in this state, died at his home in Chicago, August 10, aged 92 years. His death followed a fainting fit. He leaves a widow, Mrs. Augusta A. BOOTH, and six children, Mary Ellen BOOTH, Mrs. Robert STANLEY, Mrs. Chesley PERRY, Sherman M. BOOTH, Jr., F. Blanche BOOTH, Laura BOOTH.
Funeral services were held in Milwaukee, with which city Mr. BOOTH was closely identified in an early day.
Sherman BOOTH was for some years editor of The American Freeman, published at Prairieville, predecessor of The Waukesha Freeman, and from which this paper took its name. BOOTH did not reside in Prairieville, because when he took charge of it the paper was moved to Milwaukee, This was in 1847, and C. C. OLIN, for so many years a resident of this city, was proprietor of the paper.
The American Freeman was established at Prairieville, or Waukesha, in September 1844, by C. C. SHOLES. A few months before, Mr. SHOLES had founded The Milwaukee Democrat in Milwaukee, but becoming dissatisfied with the position of the Democratic part in regard to slavery, he changed his paper to The American Freeman, and espoused the cause of the Liberty party, then first coming into prominence. A few issues sufficed to prove Mr. SHOLES that Milwaukee would not support an anti-slavery paper, so a stock-company consisting of the friends of the anti-slavery cause everywhere in the state, but mostly at Waukesha, was formed, and the paper moved to Waukesha, where the anti-slavery doctrines more strongly prevailed. In fact Mr. SHOLES sold his entire newspaper outfit to the Territorial Liberty Association, and entered into a contract to publish The Freeman at Waukesha during the next three years, solely in the interest of the Abolition party.
Many of the prominent Abolitionists of the state were members of the Liberty Association at the time of the purchase of The American Freeman. The Waukesha stock-holders were V. TICHENOR, W. D. BACON, Thomas BROWN, George HAWLEY, T. H. OLIN, N. CLINTON, H. N. DAVIS, J. McNEIL. S. HINMAN, E. D. CLINTON, Nelson OLIN, S. R. MANNING, B. DOUGLAS, C. WRIGHT, W. S. BARNARD, Daniel CHANDLER, Edward MANNING, and W. MORLEY. The Pewaukee subscribers were David MILLER, J. H. WATERMAN, H. C. WATERMAN, A. J. PALMER, A. CLARK.
Lisbon subscribers were S. DOUGHERTY and A. NOTTINGHAM.
Brookfield subscribers were Moore SPEARS and J. L. IRWIN.
There were also subscribers from Milwaukee, Beloit, Southport, Racine, Burlington, Wauwatosa, Aztalan, Salem and Caledonia.
Mr. SHOLES continued as editor of The American Freeman about one year and was succeeded in 1845 by Rev. Ichabod CODDING. Gradually C. C. OLIN became possessed of a part of the stock and then of the whole of it. In 1846 T. D. PLUMB became Mr. OLIN's partner and a month later Mr. CODDING bought out PLUMB and the firm became OLIN and CODDING. Then Mr. CODDING withdrew and Mr. OLIN was again sole proprietor. In April 1847 appeared an article congratulating the readers of The Freeman that "henceforth Sherman M. BOOTH of New Haven, Conn. a graduate of Yale college, and who, with I. CODDING, had edited The Christian Freeman, will have charge of the editorial department of the paper. He (BOOTH) has been a Liberty man always and an Abolitionist twelve or fifteen years." At or about this time The Freeman was removed to Milwaukee.
Mr. BOOTH became especially prominent as the rescuer of Joshua GLOVER, a run-away slave, for which act he was arrested and placed in the Milwaukee jail and was himself rescued by a band of Liberty men this episode forming one of the most dramatic incidents in the history of that city.
Mr. BOOTH was a native of New York state, having been born there in 1812. He attended the public schools in the vicinity of his home and after leaving them became a student at Yale college, from which he graduated in the '30's. On leaving college he became interested in the temperance movement and spent the younger years of his life stumping New England advocating the cause of the teetotalers.
He retained his faculties to a marvelous degree up to the time of his death and his last years were employed in writing his memoirs, a book which will doubtless add materially to the history of the great anti-slavery movement, so momentous in and to this country.
[ Back to top ]
LEMUEL J. BOVEE
Source: Oconto County Reporter carried in the Milwaukee Journal later that year May 1896
Lemuel J. Bovee, when but a youth, removed with his parents from the state of New York to Eagle, Waukesha county., where his father engaged in farming and for four years held the office of register of deeds. This was twenty-eight years ago. In 1866 the subject of this sketch entered the ranks of the benedicts and one year later came to Oconto county and purchased 161 acres of wild land of B. B. Barker, later exchanging it with E. C. Whitney for the farm on which he now resides.
[ Back to top ]
MRS. ALICE I. MACARTHUR BRIGGS
MRS GRACE MACARTHUR BRIGGS
Sources: Alice: The National Society of the Daughters of the American Revolution, Volume 106 page 47
Grace: Source: The National Society of the Daughters of the American Revolution, Volume 125 page 165

Alice: Daughter of the American Revolution DAR ID # 105138 
Grace: Daughter of the American Revolution DAR ID # 124543

Descendants of Lieut. Noah Hopkins, as follows:

Noah Hopkins
	b: 1730 in Waterbury, Conn.
	d: 1805 in Pittsfield, Vt.
	m. 1751
	to: Mary Paine
	b: 1735
	d: 1812
Noah Hopkins served as lieutenant in the Dutchess 
County militia under his brother, Col. Russell 
Hopkins, 1778. He lived in New York during the 
Revolution.

Child of Noah and Mary (Paine) Hopkins:
	Hiram Hopkins
	b: 1772
	d: 1847
	m. 1793
	to: Rachel Spotten
	b: 1773
	d: 1839

Child of Hiram and Rachel (Spotten) Hopkins:
	Noah James Hopkins
	b: 1793
	d: 1873
	m. 1819
	to: Margaret White
	b: 1800
	d: 1875

Child of Noah James and Margaret (White) Hopkins:
	Isabella Maria Hopkins
	b: 1820
	d: 1904
	m. 1839
	to: Eli Clark Hartwell
	b: 1815
	d: 1897

Child of Eli Clark and Isabella Maria (Hopkins) 
Hartwell:
	Mary Elizabeth Hartwell
	b. 1842
	m. 1865
	to: Daniel Hiram MacArthur
	b: 1839
	d: 1899

Child of Daniel Hiram and Mary Elizabeth (Hartwell) 
MacArthur:
	Alice I. MacArthur 

Noah Hopkins (1730-1805) served as lieutenant in the Dutchess 
County militia under his brother, Col. Russell Hopkins, 1778. He 
was born in Waterbury, Conn., lived in New York during the Revolution 
and died in Pittsfield, Vt. 

Also No. 71211.  

[ Back to top ]
MRS. ROSE CLEVELAND BROWNE
Source: The National Society of the Daughters of the American Revolution, Volume 99 page 284

Daughter of the American Revolution DAR ID # 98900 

Born in Elm Grove, Wis. 

Wife of Edward Evarts Browne. 

Descendant of Maj. Samuel Gregg, Pineas Leland, Capt. Moses Harrington, 
	Corp. Nathaniel Adams, Chester Cleveland, and Curtis Cleveland, 
as follows: 

1. 	Alexander Cleveland (1829-73) m. 1868 Clara Josephine Gregg (1846-1912). 

2. 	Roswell Cleveland (1797-1881) m. 1827 Christina Singer (1804-84);
	Hendrick Gregg (1807-81) m. 1831 Clarissa Maria Leland (1810-82). 

3. 	John Gregg (1764-1816) m. 2nd 1790 Hanna Hardy (d. 1846); 
	Charles Leland (1782-1844) m. 1802 Mary Adams (1786-1874); 
	Chester Cleveland m. 1788 Elizabeth Hutchings (1770-1845).
 
4. 	Samuel Gregg m. Agnes Smiley (1744-1803); 
	Phineas Leland m. 1774 Sarah Winchester;
	Nathaniel Adams m. 1784 Mary Harrington (1763-1845);
	Curtis Cleveland m. Elizabeth Lord (or Curtis) (d. 1821). 

5.	Moses Harrington m. Mary Pierce. 

Samuel Gregg (1738-1808) served as major on the Lexington Alarm. He was a member of the Committee of Safety, 1779, and gave both civil and military service throughout the war. He was born in Londonderry; died in Peterborough, N. H.
Phineas Leland (1753-1820) was a minute man at the Lexington Alarm under Capt. Luke Drury. He was born and died in Grafton, Mass.
Also Nos. 25572, 79932.
Moses Harrington (1733-84) served as lieutenant and captain in the Massachusetts militia, 1775-77, in Col. Nicholas Dike's regiment. He died in Grafton, Mass.
Nathaniel Adams (1756-1829) enlisted as private in Capt. Joseph Warner's company at the Bennington Alarm. He served as corporal, 1778, under Capt. Ephraim Lyon. He was born and died in Grafton, Mass.
Also No. 79932.
Curtis Cleveland (1734-95) served several enlistments, 1777-81, in the Connecticut Line. He was born in Pomfret, Conn.; died in Delaware County, N. Y.
Chester Cleveland (1762-1840) served, 1777-82, under different commands in Connecticut Line. He was born in Canterbury, Conn.; died in Monroe County, N. Y.
[ Back to top ]
C.V. BROWNELL
Source: Unknown, Probably 1907 Haight's Waukesha County Memoirs, needs to be verified
C.V. Brownell, farmer, Sec. 8; P.O. Brookfield Center; was born in Darien, Genesee Co., N.Y., in 1816; he came to Wisconsin in 1837, lived in Milwaukee a short time, then went to Wauwatosa, there remaining until 1846, when he moved to Brookfield, Waukesha Co., which has been his home since; Oct. 9, 1842, he married in Brookfield, Adeline Phillips, a native of Erie Co., N.Y., born in 1823; their surviving children are Emma, William, Chauncey, Campbell, Edgar and Adeline; the oldest, Emma, is the wife of Alansen Pease, Andover, Ill.; he was a soldier in the Union army in the war of the Rebellion; William, the second oldest, served in Co. A, 35th W.V.I., three years and three months; was in active service; he married Annie Robinson; they lived in Buffalo Co., Wis.; Chauncey married Ellen Grogan; they reside in this town (Brookfield); Adeline is the wife of Andrew Fortner; they live in Canada; Campbell and Edgar are at home. Mr. Brownell owns 120 acres of land; is a Republican in politics.
[ Back to top ]
DANIEL ORLANDO BULLARD
Source: An Elaborate History and Genealogy of the Ballous in America, edited by Adin Ballou, 1888
It is enough to say that Daniel O. Bullard and family proved themselves intellectually and morally worthy of their progenitors. Snowville, Pulaski Co., Va., became their chosen home, but exactly when, we are not told. His death was another lamentable catastrophe. It seems that his domicile was adjacent to a considerable river, which flowed through his estate. On the day of his death, he crossed the river to attend to some wood on the opposite shore, taking his daughter Metta, aged 14 years with him. The clouds threatened rain, and he sent her homeward with the boat. A severe shower ensued. As soon as it was over, the girl rowed back for her father to bring him home. Just as she neared the shore where he was, which was overhung by a high cliff, a bowlder(sic), loosened from its bed, crushed down the trees into the water. It had stricken her father a fatal blow. She flew to his side, held his bleeding head, and screamed for help. With wild alarm and in perilous haste, Rev. William Bullard and at length the agonized wife reached the scene. The case was hopeless, and they could only bear the corpse to a suddenly desolated home. Bitter mourning, a tearful funeral and the whole sad retinue of death followed. Daniel O. Bullard died Aug. 17, 1886, a 56 yrs, 5 mos and 9 ds.
[ Back to top ]
DEXTER BULLARD Sr.
Source: An Elaborate History and Genealogy of the Ballous in America, edited by Adin Ballou, 1888
The connubial pair came directly from and returned immediately to the bride's parental home in Franklin, Mass., where the marriage banquet was served. These particulars are well remembered by the writer, who acted as groomsman on the occasion.
The children were born in different localities where the parents successively resided, which will be specified when we came to their respective family records in chronological order. Our somewhat intimate and long acquaintance with Juliana (Sayles) Bullard and her husband enables us to sketch their lives and characters with intelligent satisfaction. They were eminently worthy of the best testimonial we can give them. They were remarkably congenial and well mated companions; both highly intelligent, affectionate and amiable; both devoutly and rationally religious; both endued and regenerative moral principles, progressive aspirations and reformatory aims;..............
In 1852 he decided to settle in the State of Wisconsin. There he spent his remaining ministerial and domestic strength. And there, in Genesee, Waukesha Co., after a distressful sickness, which he bore with Christian fortitude, he laid down the burden of mortality bequeathed his final benediction to his family, and departed in the full assurance of heavenly bliss to his mansion above, Dec. 14, 1865, at 66 years and 8 mos. Mrs. Juliana survived him over five years, residing most of the time in Grafton, Mass., in the home of her dutiful daughter and son-in-law, Julia A. and Silas A. Forbush. She passed into the higher life June 10, 1871, age 72 yrs and 11 mos.
[ Back to top ]
DEXTER BULLARD Jr.
Source: An Elaborate History and Genealogy of the Ballous in America, edited by Adin Ballou, 1888
Unfortunately we have been furnished with only the above unspecific data concerning this family record. But we have more definite information relating to the life-career and death of Dextor, Jr. We infer that the two children issued from the 1st mge., but cannot be positive. The husband and father became devoutly religious in early youth, joined a church of the Christian connection, and always sustained a character worthy of his profession. He was long afflicted with deafness, but was persistently executive in business. He settled in Waukesha, Wis., in 1860, and owned a farm near Saylesville, so called. In 1873, he located in Waukesha Village, where he was the proprietor of the Arlington House. He prospered in temporal affairs, but at length had a shock of apoplexy. From this he seemed to be fairly recovering, and attended to his business hopefully, until suddenly cut down by a dismal casualty. He was on a visit to his farm, looking after certain improvements, when one day he went out gunning. He was soon found dead from the accidental discharge of his gun, his ramrod clutched in one hand. He died thus, Oct. 31, 1884, a 56 yrs, 5 mos, and 18 ds. The bereavement was almost insupportably distressing to his wife and children. His remains were buried with very sympathetic demonstrations of funeral honor.
CLAUDE BUTTERFIELD
Source: Waukesha Freeman, January 2, 1890, pg. 1
On Christmas day occurred the wedding of Claude ? Butterfield of this village, and Miss Selma C. Segall, daughter of a prominent jeweler of Milwaukee, at the residence of the bride's parents. Mr. and Mrs. Butterfield will reside here until spring. The many friends of the young couple wish them a long and happy life.